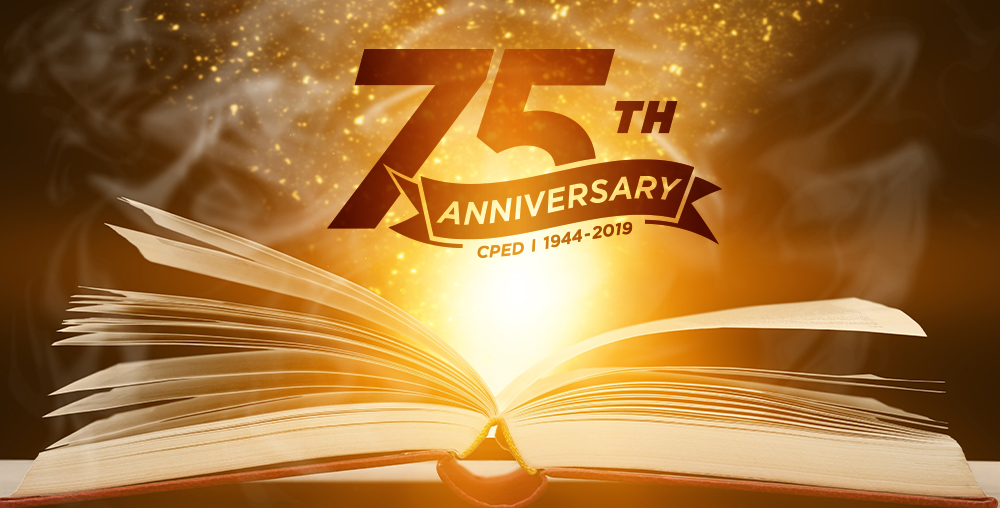 This year marks our 75th Anniversary. To celebrate, we're publishing 75 stories about members of our community. Debra Houden has been an instructor at the Wisconsin School of Business Center for Professional & Executive Development since 2012. She was also the director of the Wisconsin Family Business Center from 2008 to 2014.
ABOUT DEB
Deb's career has always been in areas she is passionate about: communication, family business, and adult education. Deb holds two master's degrees and a doctorate in communication from the University of Wisconsin. As a faculty member at the Wisconsin School of Business, Deb's academic career has always had an emphasis in looking at how organizations and family businesses deal with conflict. Deb married into a family business. She became fascinated by the relationship between family members and the business, so she wanted to concentrate her studies in family business, which is how the Wisconsin Family Business Center came into her life.
In 2009, Deb was an adjunct professor at the Wisconsin School of Business and became the director of the Wisconsin Family Business Center. In 2012, CPED program director Chuck West asked Deb to start teaching Effective Negotiations in the Workplace, which she still teaches. Deb continues to teach in the Executive Master of Business Administration program at the Wisconsin School of Business as well as teaching in the Evening MBA and for Engineering Professional Development in the Graduate School of Engineering. She has been facilitating a future leader's group that formed 10 years ago and is proud of the group's regular monthly meetings.
"I really love teaching. It's great when adults come back to school or to a CPED program because they are truly interested and invested in their learning, plus they bring so much experience to the table. It's a ball for me to teach them. Teaching undergrads is great too because the ones who really want to be there are fun to have around; they truly love learning the material."
Deb loves that she has been able to focus her career around her passions for family business and negotiations.
"Family business has been a huge part of my career. There has been a lot of research on it: if families can figure out how to have a strong and constructive relationship with each other and with the business then they will be fine. Family businesses outperform nonfamily businesses because of the strength of the family and that is the special sauce, but family business is hard.
"Consider what it would be like to own a cottage with your relatives. How do you decide who gets to use it and when? Who pays for the repairs? Who hires the people who will make those repairs? I've seen families struggle to make tough decisions when additional factors and issues come into their businesses so there's a puzzle there and I like helping people solve that puzzle.
"This relates to negotiations too: the most effective negotiators in successful family businesses are the people who can look in the mirror and say 'wait a second, what do I need to do to change? What am I doing here that is either helping or hurting this situation? What are my choices here?'"
When she's not working, you will most likely find Deb in the great outdoors. She enjoys gardening, golfing, all kinds of skiing, water sports, and flying airplanes. More than anything, Deb loves spending time with her granddaughters.
"Having grandkids has been the coolest thing. I love that I get to see the world through their eyes now. I love watching them discover new things and goofing around with them. It has been so much fun!"
CPED IMPACT
Deb's time as director of the Wisconsin Family Business Center began right as the financial crash of 2008 was happening. A difficult time for small, family owned businesses, FBC lost members of the organization and Deb was able to hold the group together.
"The first time we had a successful FBC program after the financial crash was really special. It was well attended with new family business owners, CPED employees, and even a few people from the Wisconsin School of Business. Attendees showed us they had our backs, which was nice. They took the time to show us their support and were all so kind. That's when I really saw the beauty of this community."
Deb approaches her negotiations work as a behavioralist, wondering why people do what they do, and she loves helping people discover new tools to get better at negotiations no matter their communication style.
"Negotiation is one of those things that some people think they can do really well. They go into everything by pushing to get their way and bully people until they get what they want. Then there are others who you think for sure are going into a negotiation and get pummeled and then they come out of it just fine and you immediately wonder, 'how did you do it?'
"I think it's fun to give people tools to help them negotiate whatever it is they do in life. I am constantly asking why something works, why it doesn't work, and why people act the way they do. You can have all the best ideas in the world, but if you can't effectively communicate those ideas to others you won't go very far. Always strive to work on how you communicate."
Deb's favorite memory from her time at FBC came during a snowstorm one March. When Deb and one of her co-workers were two of the few employees in that day, she asked the A/V team for the Fluno Center to turn on the March Madness basketball games for them on the big screen in the auditorium. "We were alone in the auditorium all day watching basketball and getting work done – it was so much fun. And yes, I really did get my work done!"
Deb has enjoyed being connected to CPED throughout her career and appreciates the opportunity CPED brings to the community.
"This space for executive development, for anyone to come in and have the opportunity to learn something, is exciting, crucial, and a really cool way for professionals to connect with the university. There is so much content and experiential knowledge here. The instructors are always learning from their students, too. There is so much to offer and there's a lot that goes on at CPED. The staff is supportive of one another; they fight for each other. This is important work and it has been nice to be a small part of that."
Deb encourages all professionals to understand other perspectives; don't be a know it all.
"There is this need to prove yourself, to prove you know something, and are competent. There are so many people in this world who insist on proving that they're right, but that is not the point. If everyone is right, nothing gets done. The best thing to do is to understand other perspectives so you can figure out a way forward together. Justification for why you feel the way you feel is fine, but it's not going to get you anywhere – you will be pushing a boulder up a hill, so try to understand others. That's the biggest observation I have had through my career. Stop proving you're right, that won't solve anything."
Check out more stories from our community in the 75th Anniversary section of our blog.