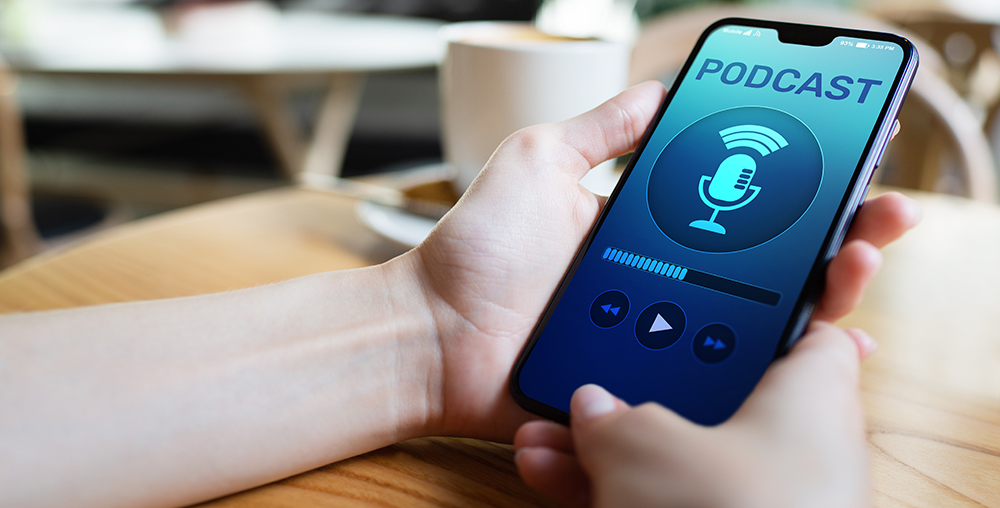 By Kim Hegeman
The business world is always changing and moving forward, and professionals in management and leadership roles need to change and move forward right along with it. While we personally believe professional development certificates and programs are one of the top ways to grow professionally in these roles, managers have a plethora of additional resources available to help them evolve their skills and leadership styles.
Podcasts are a great resource for leaders and managers. They are convenient — you can listen to them almost anywhere at any time — and they are abundant — you can likely find at least one podcast on whatever topic you are interested in.
We've compiled a list of several management-related podcasts that we think you would enjoy. Hopefully you'll find some that spark your interest and get you thinking about how to improve as a manager and leader.
1. Uplifting Impact Podcast
We, of course, must start with one of our personal favorites from CPED instructors Deanna Singh and Dr. Justin Ponder. The Uplifting Impact Podcast features conversations around Diversity, Equity, Inclusion, and Leadership. The podcast is designed to provide actionable insights and wisdom in the DEI space.
Listen now: https://www.deannasingh.com/uplifting_impact
2. Conversation with a Manager: Stories From the Frontline
Steve King and Betsy Hagan, both CPED instructors, debuted this new podcast in 2023. The podcast explores the common and sometimes uncommon challenges facing today's managers in the workplace. Each episode features a successful manager sharing their stories and lessons learned from their years of experience.
Listen now: https://conversation-with-a-manager.captivate.fm/
3. Ask a CEO 
This podcast with former New York City detective turned business expert and CEO Greg Demetriou features interviews with CEOs and founders who discuss their journeys to success. Hear and learn from their successes, failures, struggles, motivations, and challenges.
Listen now: https://open.spotify.com/show/64GDPfnQuIEXLm2bm4FWug
4. Coffee with the Greats
What makes high performing leaders great? That's the question this podcast sets out to answer. Host Miles Fisher interviews accomplished and notable people to uncover real-life lessons you can use as a leader and professional.
Listen now: https://anchor.fm/blamo-media
5. Manager Tools
Designed specifically for managers, this show aims to have an episode for every situation a manager may find themselves in.
Listen now: https://www.manager-tools.com/manager-tools-podcasts
6. Q&A: Leadership and Integrity in the Digital Age
Hosted by Jill Geisler, a professor at Loyola University Chicago's School of Communication, each episode of this podcast focuses on one question important to leaders with the goal of offering advice that can be put into action immediately.
Listen now: https://www.qandaleadershiployola.com/
7. Beyond the To-Do List
In Beyond the To-Do List, productivity experts share how to implement strategies that managers can use for themselves and share with their teams.
Listen now: https://beyondthetodolist.com/
8. Leadership and Loyalty
What generates leadership and loyalty today? That is what this show sets out to explore. With over 700 episodes, this podcast features hundreds of guests and their stories to inspire today's leaders and help them from making the same mistakes others have made.
Listen now: https://podcasts.apple.com/us/podcast/leadership-and-loyalty/id272512829
9. Growth Think Tank
This podcast features interviews with founders and CEOs of Inc 500 companies. It focuses on principles of growth, leadership, company culture, and more. The podcast has been producing episodes since 2014, highlighting "conversations with leaders for leaders."
Listen now: https://www.genehammett.com/category/leaders-in-the-trenches/
10. Lead to Succeed 
The Lead to Succeed podcast dives deep into personal leadership journeys. Hosted by author, consultant, and leadership coach Naphtali Hoff, this podcast offers practice insights and advice to be a more effective leader.
Listen now: https://www.impactfulcoaching.com/podcast
11. Leadership Biz Café
Featuring both short, 10-minute lessons and longer interviews, this podcast aims to help listeners learn and understand the skills and qualities that make a strong leader.
Listen now: https://www.tanveernaseer.com/lbc/
12. The Engaging Leader
This podcast, which has been producing episodes since 2015, features conversations designed to help listeners communicate, engage, and lead with greater impact. Host Jesse Lahey and guests share principles, tips, and stories to inspire today's leaders.
Listen now: https://engagingleader.com/podcast/
13. The John Maxwell Leadership Podcast
New York Times bestselling author, coach, and speaker John C. Maxwell hosts this leadership podcast that provides a variety of transformational leadership lessons.
Listen now: https://johnmaxwellleadershippodcast.com/
14. Women's Leadership Success
Host Sabrina Braham has interviewed over 100 top thought leaders to get actionable advice and tips on how to be a better leader, advance your career, and more.
Listen now: https://www.womensleadershipsuccess.com/
15. Read to Lead
Hitting the 400 episode mark in December 2021, Read to Lead is hosted by Jeff Brown. Brown interviews business book authors, discussing not only their books but their insights on leadership, personal development, productivity, business, career, marketing, and entrepreneurship. This podcast takes leadership advice off the page and into your management tool belt.
Listen now: https://readtoleadpodcast.com/
16. SUCCESS Stories
From SUCCESS magazine, this podcast highlights "influencer stories that shape today's world." The show features innovative entrepreneurs sharing behind-the-scenes stories about their success.
Listen now: https://www.success.com/success-stories-podcast/
17. Coaching for Potential
This podcast focuses on using and improving leadership skills, often with a focus on coaching.
Listen now: https://coachingforpotential.podbean.com/
18. Radical Candor
Not only does Radical Candor provide practical tips to improve leadership and introduce new management philosophies, it also features a few stories of "cringeworthy boss moments," providing some solid examples of what not to do as a manager.
Listen now: https://www.radicalcandor.com/candor-podcast/
19. Coaching for Leaders
Sharing leadership conversations since 2011, this podcast interviews bestselling authors, expert researchers, and leaders to gain their wisdom.
Listen now: https://coachingforleaders.com/
20. LEADx Leadership Podcast
Host Kevin Kruse interviews some of the world's top leadership experts and business executives to get tips on how to successfully manage teams and advance yourself each day in the workplace.
Listen now: https://leadx.org/podcasts/leadership-podcast/ 
This blog post was originally published in December 2021 and updated in June 2023.