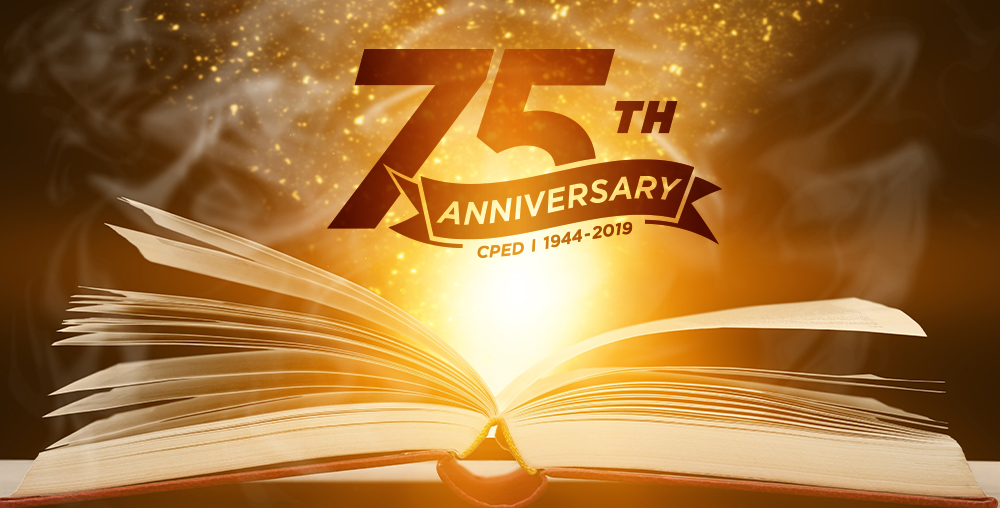 This year marks our 75th Anniversary. To celebrate, we're publishing 75 stories about members of our community. Robert Stone has been an instructor at the Wisconsin School of Business Center for Professional & Executive Development since 1999.
ABOUT ROBERT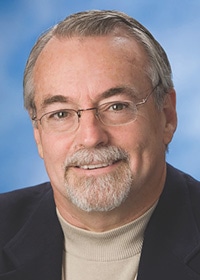 Robert was a highway engineer early in his career and left to work at the Department of Transportation. Shortly after that he met Dave Schreiber, who worked at CPED (at the time it was called the Management Institute), at a networking event. Dave asked Rob to occasionally fill in for other instructors and CPED has since been part of his life.
While at the DoT, Rob worked on total quality management (TQM) and was soon asked to join a team that reported directly to then Governor Tommy Thompson. This team was charged with implementing the project management practice in state government. Wisconsin was the first government organization in the world to adopt TQM processes, followed closely by the city of Madison and the University of Wisconsin-Madison. Professionals from all over the world started coming to observe what the Wisconsin government was doing with TQM, including a group from Australia. They invited Rob to come to Australia for a few weeks to talk about how they could implement TQM in government. Rob ended up staying in Perth, Australia to work on this project.
Robert has also taught workshops and seminars on project management throughout the United States and Europe and has worked in Africa, China, and Dubai. He is a certified project management professional (PMP) and a Lean Six Sigma Green Belt.
When he's not working or traveling, Rob enjoys reading books about history and then planning trips to visit those places. Not long ago he and his wife visited South Africa and Rwanda and recently visited India where they went to historic British Colonial, Mughal Empire, Hindu, and Buddhist sites. He also loves traveling throughout Southeast Asia and is fascinated with those cultures. An engineer and construction project manager at heart, Rob also enjoys working on remodeling his home in his spare time.
"I have a 1957 mid-century modern house that I love to work on. My wife and I have completely redone this house ourselves. I grew up on a farm so between that and my engineering background I love doing this stuff myself. I love replacing windows, adding doors, painting, electrical work, plumbing, everything! It lets me put my project management skills to use on a personal level, too. So, my house is my favorite hobby."
CPED IMPACT
When he came back to the United States, Robert asked himself what he should do next, when Jack Huffman, another CPED employee, called to ask Rob to come work on a new TQM program at the Management Institute. Since then, he has taught classes in interviewing, project management, and Train the Trainer. Rob has been teaching Project Management: Planning, Scheduling, and Control since 1999. He has also taught Project Leadership Communication.
"My time with CPED has been a joy. It has always been fun and rewarding. Even before I started teaching at CPED, my first experience with the University of Wisconsin-Madison was a series of three-day programs at the School of Engineering. By the end of those courses I thought, 'I don't think there is any better thing than living in Madison, Wisconsin and teaching these classes! This is too cool.' When I ended up doing that at CPED, it really was a dream come true. I knew about CPED and its predecessors my whole engineering career, so I am constantly grateful to be a part of CPED – it really is an honor to be part of such an amazing organization.
"Everyone who comes to Madison should come to the Fluno Center and go up to Smitty's Study Pub, if only to enjoy the view. That is maybe the best view of Madison. I love going up there just to overlook the city. You can see the isthmus and both lakes – you can't find that view everywhere in Madison so it's special and I encourage everyone to go up there to see it."
This year also marks the Fluno Center's 20th Anniversary. Rob happened to be teaching at the Fluno Center the day it opened, and it remains one of his favorite CPED memories.
"It was an exciting day; every classroom was full. They had given instructors a tutorial beforehand on all the new technology in the classrooms and gave me a remote control for my PowerPoint slides for my class. It was really exciting from the instructor standpoint to be anywhere in the room and change the slides – is was really a powerful remote. That was fairly new technology at the time.
"I had my back to the screen when I clicked to the next slide for the first time but then everyone in the class yelled, 'your slides are changing!' When I turned around, my slides were four slides ahead. Every time I clicked back the slides would keep changing, it was crazy. Even when I wasn't clicking the slides were changing on their own. We soon realized these remotes were so powerful they worked across the entire floor and all the remotes were on the same frequency, so this was happening to every instructor. It was an all-out war of slide changing until they realized what was going on – it was hilarious! They started running up and down the halls yelling 'stop using the remotes!'"
Rob enjoys being able to help participants at his programs improve their daily lives at their jobs. "My class has two goals: one is to give people an overview of project management. What does it look like from concept to delivery of a project? Then, in their time in class, my other goal is to give them tools that they will take from the class and use in their daily lives when they get back to work. They don't have to do everything we talked about in the class the next day, but I want to make sure they have tools they can bring back and start using immediately. They should learn these techniques and decide how they're going to implement them successfully in their projects and across their organization. Helping students out is just great."
Rob encourages all program participants to stay enthusiastic about what they've learned in their programs but also stay realistic with how they are going to implement change.
"My advice to them is do not go back and do all of this right away – wait! Figure out first what is most important, what you can do now, and what you want to do so you can start improving those projects. Make this process work for you. You might have to adjust some things to make these tools work for you. It does not have to be exactly by the book. Do what you can and adapt the standard things to meet the needs of your organization."
You can visit our website to learn more about Project Management: Planning, Scheduling, and Control and the Master's Certificate in Project Management. Check out more stories from our community in the 75th Anniversary section of our blog.