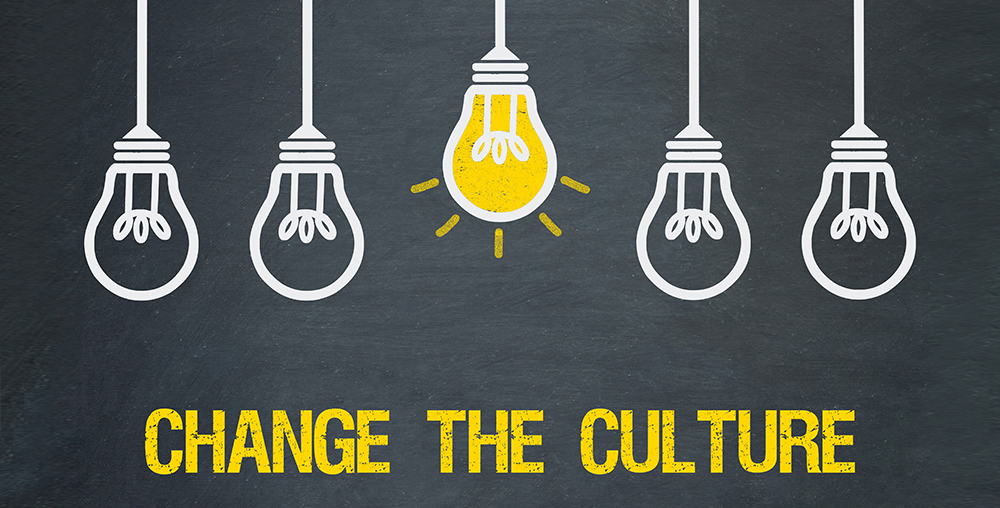 The Wisconsin School of Business Center for Professional & Executive Development is proud to partner with Human Synergistics International to provide assessments and data into your leadership style, organizational culture, agility, and readiness for change. The following article by Kalani Iwiula was published to the Human Synergistics Constructive Culture blog on March 8, 2022.
Being an agent of change for an organization's culture requires solid strategic and communications skills. Those experienced in helping organizations to change their culture confirm that it can be a massive undertaking.
The Beacon
Whatever challenges the organization is facing—low morale among staff, bad behavior at the senior ranks, unhealthy team culture, employee burnout or poor performance, lack of innovation—the situation requires attention and implementation of corrective strategies to position the company for sustainable improvement and success. If left unexamined, these problems inevitably worsen and cut off the organization's chances for recovery.
Enter the Role of the Change Agent
Cultural change agents, whether internal or external, provide guidance and expertise and help leadership teams understand the challenge at hand, assess next steps, and collaborate on a clear path forward.
What is a cultural change agent?
An agent of cultural change within an organization is a person who is trained and empowered to facilitate change. Sometimes this individual will be an internal member of the organization who has the perspective to see how things are and how they can improve. A cultural change agent is often external to the group—a consultant, for example—who has specific training to analyze and evaluate the organization's culture and recommend ways that that might change. No matter the type of change agent, or their role in the organization, the work of facilitating cultural change is vital.
Examples of cultural change agents at work
In the casual setting of a recent Ultimate Culture Conference, skilled culture change agents shared the following success stories on culture transformation. Covering diverse industries such as architecture, construction, consumables (food), and healthcare, the experiences of these agents of cultural change are worth examining for useful insights to apply in your own cultural journey.
Let's get started.
HKS Architects
Culture Change at HKS: Resilient and Responsive
Challenge
Dallas, Texas-based architectural firm HKS Architects creates places that enhance the human experience, like the US Bank Stadium, home of the 2018 Super Bowl. After collecting employee satisfaction data for 10 consecutive years, leadership sought to better understand the current culture and the roadblocks that were inhibiting employees from taking the most successful actions.
Solution
A culture survey was initiated firm-wide using the Organizational Culture Inventory® (OCI®) from Human Synergistics.1 Well-coordinated company-wide discussions, covering 20 offices across the globe, were conducted to review cultural attributes and the climates and prevailing behaviors of the various offices. Office leadership engaged staff in goal setting and planning. A new performance development system, ELEVATE, was implemented; not linked to compensation, the system involves managers meeting with team members three times each year. Culture change agent Cheryl Kitchner led ongoing discussions to facilitate participation and learning; vocal support from senior leadership is visible.
Outcomes
HKS reassessed its culture in 2016 using the OCI and added an assessment of the work climate with the complementary Organizational Effectiveness Inventory® (OEI).2 The retest, showing an impressive increase in survey participation, confirmed remarkable reductions in Passive/Defensive and Aggressive/Defensive styles and vital improvements along the Constructive styles. Key changes included a stronger commitment to and focus on personal and professional development.
The second phase of improvement is ongoing and includes:
Definition of a clear "FROM-TO" shift to consistently support the company-wide strategic priority, "Responsible Design."
Implementation of a creative and engaging leadership development program, Root Compass. "Responsible Leadership Workshop" was customized based on culture assessment results and launched for use with all managers. Goal: 100 people trained by end of 2018.
Enhancement of the ELEVATE platform is further enhanced to include peer reviews for project teams and benchmarking by role.
Roll-out of personal assessments to identify individual styles and strengths. Goal: 600 people trained by end of 2018.
Advocate Health Care*
Culture Shift + Leadership Development = Sustainable Results
Challenge
As the largest health system in Illinois, Advocate's challenge was to increase and stabilize engagement, focus on culture change, and strengthen relations within a high-profile, semi-autonomous unit that struggled with negative team dynamics, unproductive work relations, and entrenched passive-aggressive behavior.
*Advocate Health Care is now Advocate Aurora Health, April 2018
Solution
Focusing more on culture than climate, emphasis was placed on helping leaders and teams make the connection between outcomes and their actions and behaviors. Simultaneous "teach & learns" were delivered at all organizational levels with a keen focus on achieving ideal behavioral styles and impact.
The change initiative was guided by an OD professional specializing in culture transformation and leadership development. Culture change agent Diane Stuart's 10 years of healthcare management experience qualified her to lead Advocate's change effort through an intense and collaborative learning process using assessments like the OCI and Leadership/Impact® (L/I).1, 3
Outcomes
As leaders gained awareness of their behaviors and their impact on others, Advocate achieved a dramatic shift in culture, attained high levels of engagement, and exceeded financial goals. The impressive turnaround results realized by the focal unit have subsequently been used to motivate, guide, and transform other Advocate teams and departments.
Johnsonville Sausage & Wisconsin School of Business Center for Professional & Executive Development (CPED)
Ensuring a Culture for Growth
Challenge
Members and leaders of Wisconsin-based Johnsonville Sausage have a bold vision to "be the best company on earth." This requires that the leading national sausage brand be culturally prepared and poised for aggressive innovation on its way to growing and becoming a $1 billion company. An important step was determining whether the company's Research and Development subculture would foster innovation and growth while supporting their desired culture famously cultivated in the "Johnsonville Way."
Solution
Susan Dumke, Johnsonville's Research & Development Senior Project Manager, partnered with CPED to coordinate a pilot culture study led by Lisa Yaffe, Program Director for Executive Leadership.
Accredited in the OCI, culture change agent Yaffe guided the Johnsonville team through the assessment and reporting process.1
Outcomes
A pilot study confirmed that the R&D employees maintained a strong Constructive subculture that helped the team stay aligned, focused, and to work together and grow. The process also confirmed that the OCI could be leveraged for assessing and developing the Johnsonville culture more broadly.
Lessons Learned
Culture-related change efforts come in many forms. These three very different success stories provide the following lessons:
Recognize how your current culture is helping and hindering progress toward key strategic priorities.
Use a valid and reliable survey to gain a common language for and measure of both culture and climate.
Understand culture and climate as a foundation for adjusting strategies or plans to improve results.
Combine culture assessment and development efforts with leadership assessment and development.
Partner with experienced culture change agents for perspective and expert guidance.
The journey never ends. Engage leadership and all team members in additional phases of improvement as progress is measured and confirmed.
The guidance and expertise of a culture change agent can be invaluable to your change effort. For additional examples of how change agents guide leaders in transforming their organizations, check out part two of this series.
The Wisconsin School of Business Center for Professional & Executive Development has several programs designed to help you become an effective cultural change agent. Learn more about Building a Culture of Inclusion and Belonging, Change Management, Managing Teams Effectively, and Leadership Beyond Management. 
We can also work with your organization on culture and leadership consulting, coaching, and professional development programs customized to your organization's specific needs. Set up a Discovery Session to speak with a Solutions Advisor and learn more.
References:
1 Cooke, R. A. & Lafferty J. C. (1987). Organizational Culture Inventory®. Plymouth, MI: Human Synergistics International.
2 Cooke, R. A. (1995). Organizational Effectiveness Inventory®. Arlington Heights, IL: Human Synergistics/Center for Applied Research.
3 Cooke, R. A. (1996). Leadership/Impact®. Plymouth, MI: Human Synergistics.