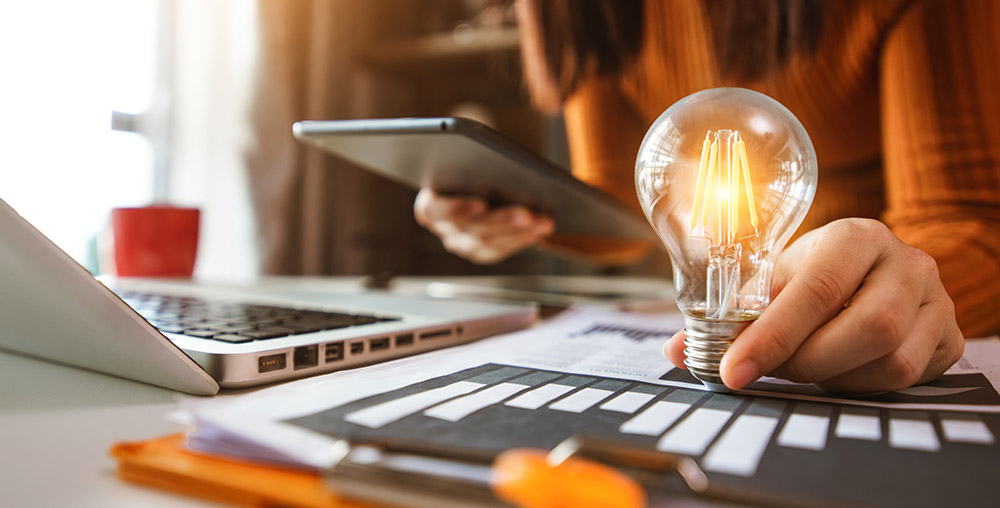 By Kim Hegeman
Strategic thinking may not come naturally to all your team members, but it is a skill you can help them develop. Wisconsin School of Business Center for Professional & Executive Development instructor Dr. Adam J. Bock has several strategies for getting your team members to become better strategic thinkers.
"Our challenge as mangers, executives, and mentors is to help people to recognize that there are global problems at the organization in which they are a piece of that puzzle."

Dr. Adam J. Bock
"The ability to think strategically and apply a strategic mindset on a regular basis really comes from practice," Bock says. "We need to give opportunities to think strategically and potentially to fail thinking strategically. It's a little bit like learning to ride a bicycle."
As you create these opportunities and employ the following tips, remember to let your team members know there is a support network in place for them, and that they are not expected to be perfect the first time, or even the first few times.
Download Strategy Development Self-Assessment
1. Help Them Understand Strategy Vs. Tactics
"Strategy is when you do the right things. The tactics are those individual actions, whether complicated or simple," Bock says. In your organization, it is essential that you are doing the right things and doing them well together.
This can be a challenge, though, because individuals approach strategy in different ways. Some of your team members will be more strategically oriented while some will be more tactically oriented.
"If you think about how we were all trained in school, in college, and maybe early work careers – we've been trained to get the right answer. We've been trained to think very tactically," Bock says. "You are trained to do very specific things, and that bleeds over into this process in the workforce. People are very focused on the idea that there is one specific answer and if they can just get to that it's all sorted out. Our challenge as managers, executives, and mentors is to help people to recognize that there are global problems at the organization in which they are a piece of that puzzle."
While it is important to make sure your team understands the difference between strategy and tactics, it's also important to know that your organization needs both strategy and tactics to make strategy execution successful.
Helping team members understand the difference between strategy and tactics and how they work together can help them build a more strategic mindset.
2. Help Them Understand What Strategy Is Not
To be able to think more strategically, it can be beneficial to look at it in terms of what strategy is not.
Strategy is not:
A vision statement
A missions statement
A set of values or principles
A growth goal (unless your strategy is low-cost via economy of scale)
A one-time thing
Strategy clarifies how you beat out the competition. It is what gets you to the desired outcomes.
3. Help Them Understand the Strategic Planning Process
According to Dr. Bock, strategic planning is what gets you to a set of decisions and guidance on how to make decisions going forward. Your team members may or may not be directly involved in the strategic planning process but having an understanding of the process can help them be better strategic thinkers.
As part of strategic thinking, encourage your team members to ask three questions:
Where are we now? Make this an honest appraisal of the situation.
Where do we want to be? Consider what are attainable goals.
How will we get there? Identify strategic initiatives and specific tactics to get to the desired outcomes.
Download Strategy Development Self-Assessment
4. Help Them Build Core Strategic Thinking Skills
"Core strategic thinking skills associated with having a strategic mindset are getting comfortable with process, increasing the level of collaboration, and using reflection to avoid lock-in," Bock says.
Many people can be uncomfortable with the idea that the process is a part of the solution, but processes are a great help in making people more effective as strategic thinkers and more able to implement complex plans.
Collaboration is a huge piece of strategic thinking. Collaboration makes implementation easier. Your team members should be ok with saying "I don't know." This is where learning opportunities begin, Bock says. Identify complimentary capabilities of team members. This is where you're going to get the most benefit in generating strategies that work, he adds.
Here is where you help them learn from choices made, continuous evaluation, and to be open to new interpretation. Have them ask themselves, "Am I serving the team's most effective implementation or am I holding them back?"
5. Help Them Practice Strategic Thinking
"We have to find ways to help people try out strategic thinking and to feel like there's an opportunity to do it and get constructive feedback that's going to help them the next time they go at it," Bock says.
Give your team an opportunity to see the impact of the work they do at a different level of the organization. "Once you help people get that better perspective, they are much more likely to be open to collaboration, innovation, and other types of opportunities," Bock adds.
A big part of creating opportunities can be as simple as giving them access to more information about the organization and encouraging them to explore more areas of interest that go beyond their own functional area. Creating opportunities to shadow or be placed onto a project in another functional area can be an eye-opening experience.
You can find more tips and strategies from Dr. Bock in the on-demand webinar, "Boost Your Strategic Mindset." Dr. Bock further addresses and explores the challenge of developing your strategic mindset and that of your team members in Business Acumen and Strategy. In this program you will learn to integrate strategy planning and tools into an actionable plan for implementing strategic initiatives.