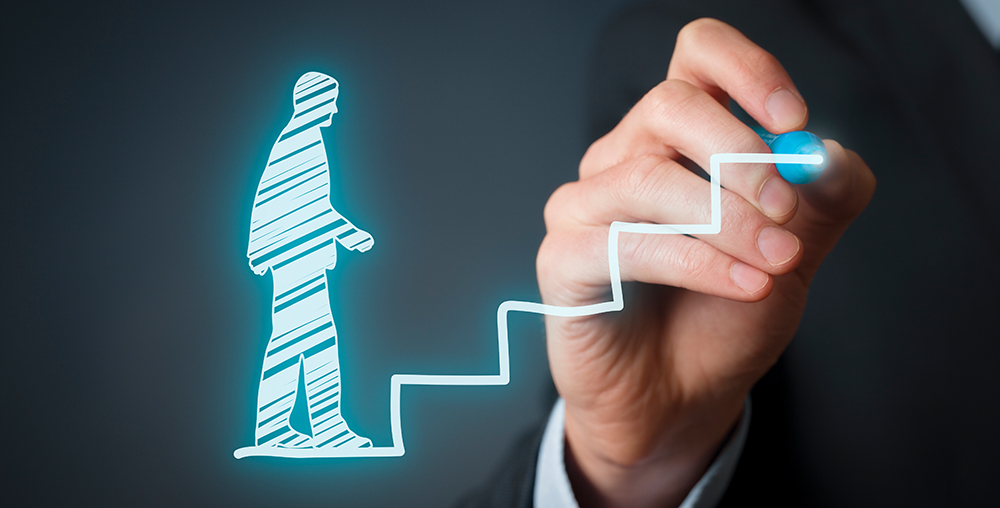 By Kim Hegeman 
There's no one-size-fits-all journey to professional success. Each career story is unique, shaped by diverse experiences. Matt Bartman has his own unique journey to share from his nontraditional path to leadership to the pivotal role of professional development in his career. 
Matt has attended several programs at the Wisconsin School of Business Center for Professional & Executive Development (CPED), earning his Lean Six Sigma Yellow Belt, Green Belt, and Black Belt Certificates as well as CPED's Business Analysis Certificate. 
Matt shared with us his inspiring career journey, insightful perspectives, and the most valuable takeaways from his CPED experience. 
How has your career path played out? 
Matt Bartman (MB): I took a nontraditional path. I didn't go to college right out of high school. I entered the workforce and did many different jobs in different industries. I started with U.S. LBM about 10 years ago as a yard hand and then became a truck driver. 
Not long after I started, I heard about the Lean Six Sigma Yellow Belt program. I've always loved learning and love continuous improvement related topics. My manager at the time was willing to send me, which was really cool. After that I went on to get my Green Belt. 
A role opened up at U.S. LBM for a regional continuous improvement leader for the Midwest region. I got the new role and continued with my professional development by earning my Black Belt as well as CPED's Business Analysis Certificate. 
I then moved on to the role I have now which is Lean Manufacturing Leader for U.S. LBM. In this role, I focus on improving the performance of the manufacturing facilities across our entire portfolio. 
What do you like best about your job? 
MB: I really like manufacturing, and I like the different people and businesses I get to work with. A really neat thing about my job is it gives me a broad perspective that I don't think a lot of jobs have the ability to do. That's been worth its weight in gold. And I like U.S. LBM. I align with their values and really appreciate that they are a very forward-thinking organization.  
I also like the level of variety my role offers. I could be working with a team facilitating a project, teaching a class, doing specific improvements at a specific site, performing an analysis, building some type of custom tool, and running an enterprise-wide project all in the same week. 
What draws you to continuous improvement? 
MB: There are two aspects to it. The first is I really like the people and culture development side. I like bringing people together to solve problems and improve performance. I'm a big believer if you bring people together, the sum that you will receive is much greater than its parts.  
I really like the specific actions of that part of continuous improvement. You have to be a good speaker. You have to be able to teach. You have to be able to analyze the room and see where everybody's at and then bring everybody along on this journey to solve a problem together. 
Another thing I like about continuous improvement is the technical side. When you create an improvement to something or create a specific tool that can solve a problem and make everybody's lives easier, that's really cool.  
Tell us about your experience with CPED. 
MB: The Fluno Center is actually one of my favorite places to go. CPED really gives a premium experience. I can park my car, stay at the hotel, and attend the program. Everything I need is in one spot. 
CPED's programs are very direct, and you learn a lot in a short amount of time. I also appreciate that CPED is focused on the continuous improvement of its own programs. During every program, I was always asked, "How can we improve it? What can we do better?" I've seen some of those improvements go into place, so I know it's not just lip service. 
CPED also does a great job of balancing participants as both students and customers. I think it is one of the things that makes CPED very unique and also very real. With CPED its, "Hi everyone, welcome. We know you're investing your most valuable resource, your time, so we're going to make sure we give you the best return on your investment and make sure you leave this place talking about a great experience." 
How have CPED programs impacted your career? 
MB: CPED has been a big piece in my career development. The Yellow Belt program was my first exposure to post high school learning. I really liked that the program put a lot of verbiage and specific processes around the process of process improvement. 
The CPED programs played a very strong part on the technical side, giving me the skills to reach the first, hardest rung on the ladder. And it's allowed me to keep climbing in my career.  
Something I learned from CPED that I probably didn't directly realize was I learned a lot about how to facilitate from watching instructor Scott Converse. When I teach, I try to emulate my own version of some of the techniques and tactics that Scott uses, like using the whole room, putting stuff on the walls, changing where the front of the room is, and more.  
What do you feel is the value of professional development programs and certificates? 
MB: The programs help you build high value skills that directly translate to results. Additionally, the certifications I gained through CPED have helped me grow my career more than once. It may sound over-dramatic, but the programs at CPED have changed my life. 
CPED offers a range of continuous improvement professional development programs that can help you achieve your goals. Embark on your own continuous improvement journey and enroll in one of our upcoming Lean Six Sigma programs.