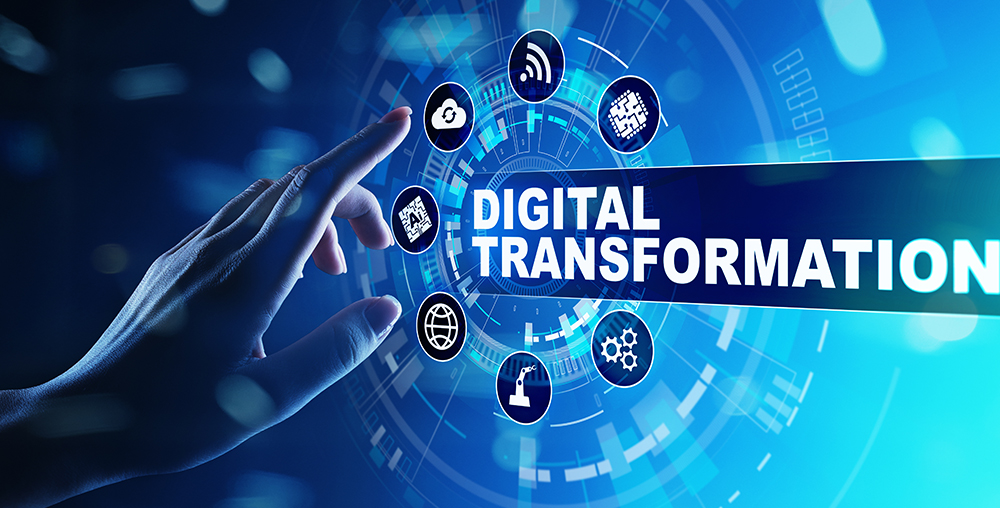 By Jeremiah DeGollon
Every day I meet with senior executives and leaders in a vast array of industries and markets. Over time, I've come to notice that the challenges leaders and organizations face are not that far off from one another.
Recently, I met with our Client Advisory Board and had the opportunity to hear from more than 20 executives from such organizations as GE, American Family, Google, Molson Coors, and the Milwaukee Brewers. Again, I was reminded of the many differences we share and our likeness in opportunity.
While there are myriad challenges facing organizations, the one that stood out most was digital transformation.
Why is Digital Transformation a Vital Business Opportunity? 
For the executives that embrace digital transformation, they have become champions and evangelists —like Allen Smith, chief information officer at Baker Tilly US. I asked Allen about why digital transformation is such a vital business opportunity.
Allen told me, "Digital transformation is all around us. It's the difference between being a frontrunner and being left behind. The COVID-19 pandemic has caused companies to navigate massive shifts ranging from how work gets done to rapidly changing customer behavior and market risks —all of which have required companies to accelerate their digital transformation plans. Our world, particularly our professionals and our clients, have an appetite for technology; and we know innovation and digital transformation make us more efficient and create more value.
"It's the difference between being a frontrunner and being left behind."
That's a bold statement, and Allen is right. So how does it happen that from one organization to the next, one executive to the next, there is a strong advocation for digital transformation, but in a room of 10 executives, you'll get 10 different definitions?
What is Digital Transformation? 
Let's start with a root understanding of the terms: digital, digitization, digitalization, and digital transformation. When world-renowned Wisconsin School of Business faculty Dr. Justin Sydnor and Dr. Daniel Bauer say "digital", they refer, in a broad way, to the confluence of online communications, improvements in digital data storage and capture, computing power, and improvements in computer processing and prediction algorithms.
Leaning into that definition, digitization is the transition from analog to digital. Basically, it's taking those paper documents that were once bound or put in binders and putting that data into digital form or in a computer operating system. Digitization is hard — it is about investing in the right technologies, underlying technologies, whether it's cloud, analytics, or the Internet of Things; and it's also about identifying, curating, and managing data appropriately and the whole suite of technologies around analytics. And it's hard because most companies weren't born digital and must now break legacy processes and mindsets about how they capture and use data.
When we take that digital data and we make our work more simple, faster, and efficient, this is referred to as digitalization. Remember passbook savings accounts or card catalogs at the library? Digitalization changed these services making access and use of records quicker and easier with the use of a computer.
At a recent Executive Roundtable, led by Albert O. Nicholas Dean of the Wisconsin School of Business Vallabh (Samba) Sambamurthy, Dean Samba defined digital transformation as the broad consequence of mutually connected, rapid advances in data availability and technology. He added that for digital transformation, what is needed is a digital mindset. Describing this as a shift in our use of analytics.
Previously, leaders used data to answer the questions they already had. Having a digital mindset is challenging "old thinking" and accepting that we might not know the answers or even the question. Thinking digital is about finding the questions, then finding the answers, and building this into our executives.
The Impact of Digital Transformation 
A closer look into the trends of corporate America shows just how close America's top businesses are from moving from frontrunner to falling behind to failing. In 1990, the average S&P 500 company had been on the list for 20 years. That stay is expected to decrease to 14 years by 2026. Many experts expect that half of the S&P 500 will be replaced over the next 10 years.
Wisconsin School of Business Center for Professional & Executive Development (CPED) instructor, Dr. Adam J. Bock, says, "The accelerating pace of technological change, and the availability of inexpensive technological tools (such as big data, artificial intelligence, and machine learning) have opened markets and industries to new competitors. Customers and markets can shift in months instead of decades.
Take for instance the rise of technology companies that are eating away at the revenues of legacy industries, such as financial services and insurance.
Lemonade is a company that in as little as 90-seconds can provide renters and homeowners with the right insurance policy using artificial intelligence (AI). AI helps guide users through their choices, and in as little as three minutes can file and get a claim paid.
Lemonade, which was established in 2015 and is now valued around $9 billion in market cap (about 17% of Progressive Insurance), has disrupted the insurance industry.
I spent nearly 20 years working in financial services. There was a time where many of us thought that with the introduction and wide-spread adoption of the ATM, it was predicted that the ATM would bring the eventual demise of the teller position. Tellers have survived, but the introduction and evolution of the ATM has augmented the teller's role and financial services strategies.
Today, many of our financial services needs can be accomplished using a smartphone and banking app. Checks have all but disappeared and given way to e-payments and remote capture to deposit paper checks, pay bills, or transfer money. And when it comes to purchases, we don't even need a physical card with the rise of mobile payment platforms like Android Pay, Apple Pay, and Samsung Pay.
Harvard Business Review sited that when successful companies face big changes in their environment, they often fail to respond effectively. Unable to defend themselves against competitors armed with new products, technologies, or strategies, they watch their sales and profits erode, their best people leave, and their stock valuations tumble. Some ultimately manage to recover — usually after painful rounds of downsizing and restructuring — but many don't.
Setting Your Digital Strategy 
Recently, I had the opportunity to meet-up with Tim Dickson, chief information officer at Generac Power Systems, and I asked him about the disproportionate understanding from the C-Suite for digital transformation.
Tim told me, "Digital transformation cannot happen without the full support and alignment of the senior leadership team as well as the 'tops down' agreement regarding the change that needs to happen. Ultimately, it's about leading a major change management initiative across an enterprise with a bold vision of where you are going, having the right talent to lead and demonstrate to people what is about to change, how you are going to get there together, and everyone's personal role in making that happen.
"Digital transformation is not about incremental change, it's about a bold new vision, a step-function leap, if you will, for where your company is going, a new way of working, and the change that is needed to happen to get there. It's about doing something different at an individual level that will have a greater impact to the enterprise as a whole. Team members who don't feel they have the full support of their leadership team simply will not buy-in, embrace the risk involved in the initiative, and adopt this new model and way of working.
Setting Yourself Up for Success 
The writing is on the wall, and leading companies are already out in front of it, aligned on a digital strategy, and aligned as a leadership team. The fact is, it's a journey for any organization, and I've been fortunate to have a front-row seat with thought leaders, visionaries, and leaders across industry. Digital transformation and the implications to any organization can be challenging to comprehend and an undertaking some executives admit they do not fully understand. Through our work, leveraging world-renowned thought leaders on the University of Wisconsin-Madison campus, we are striving to help bring clarity and a path forward for our partners.
If you'd like to meet with one of our experts, set up a Discovery Session and one of our Solutions Advisors will work with you to identify the resources needed to make sure your digital strategy can be successful.
---
Jeremiah DeGollon is a successful business and executive advisor who is passionate about solving complex enterprise challenges. Jeremiah is a Solutions Advisor at the Wisconsin School of Business Center for Professional & Executive Development and serves State and County appointments on the Governor's Council on Financial Literacy and Capability and Dane County Community Block Grant Commission. Prior to CPED Jeremiah served as Founder/CEO of Green Cow Strategies, Vice President of Relationship Development & Advocacy, and served on the boards of the Cooperative Network, MACCU, and Lango Language Cooperative. Jeremiah holds a master's and bachelor's degree in business administration from Edgewood College and certificates in Urban and Rural Economic Development, Cooperative Management, and Leadership.