By Steve King
Over the last decade I've had the privilege to spend time with thousands of managers and leaders discussing the importance of frontline managers to an organization's success. Even though "management" sometimes gets a bad rap as some throw back to a fading industrial age, managers still play a critical role in our businesses. Perhaps the title of Gallup's 2019 book by Jim Clifton and Jim Harter put it most succulently what years of their research on employee engagement suggests…"It's the Manager."
A CEO once told me that the most difficult transition in his career was moving from individual contributor to his first management role. Quite a few leaders have told me the same thing.
After publishing five books of my own on management, I wanted to shift gears and give voice to some of the best managers I've met over the years — not in the form of another book but rather a podcast. I'm happy to say that ten of my favorite managers agreed to chat with my colleague Betsy Hagan and myself in a series of interviews for our new podcast "Conversation with a Manager: Stories from the Frontline." 
The intent of these interviews is to gather the best advice and counsel from veteran managers for anyone new to a management role and, perhaps, even long tenured managers looking to add a few tools to their tool kit.
Among the folks you will be meeting is Michelle Kaiser of John Deere sharing her thoughts on management and mentoring; John Stefanik, a veteran of the baking business, sharing his experiences as a new 19-year-old managing folks twice, even three times his age; and April Gingras of Tri Point Homes, sharing her perspectives on addressing an underperforming team member.
The Center for Professional & Executive Development has been committed to helping managers with this key career transition.  The podcast "Conversation with a Manager" provides yet another means for managers to access and learn from the experience of those who have been on those frontlines. Listen to the first podcast episodes and let us know what you think.  
Listen to the Podcast
The "Conversations with a Manager" podcast is available on Apple podcasts, Spotify, Stitcher, and Google podcasts. The first two episodes are already available to listen to. New episodes will be released weekly starting April 17. Make sure to subscribe to the podcast so you don't miss an episode.
---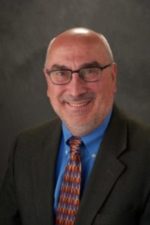 Steve King is adjunct faculty for the Wisconsin School of Business Center for Professional & Executive Development. Prior to this role, Steve served as the president and executive director of the Center for five years. Formerly, Steve was chief learning officer and vice president of talent management for Baxter. Prior to this position, Steve was the senior vice president of human resources at Hewitt Associates for seven years, with responsibility for all aspects of human resources for the international consulting and outsourcing firm, and he was Hewitt's chief learning officer for three years. Steve has an M.A. from the University of Wisconsin and a B.A. from the University of Iowa, both in economics.