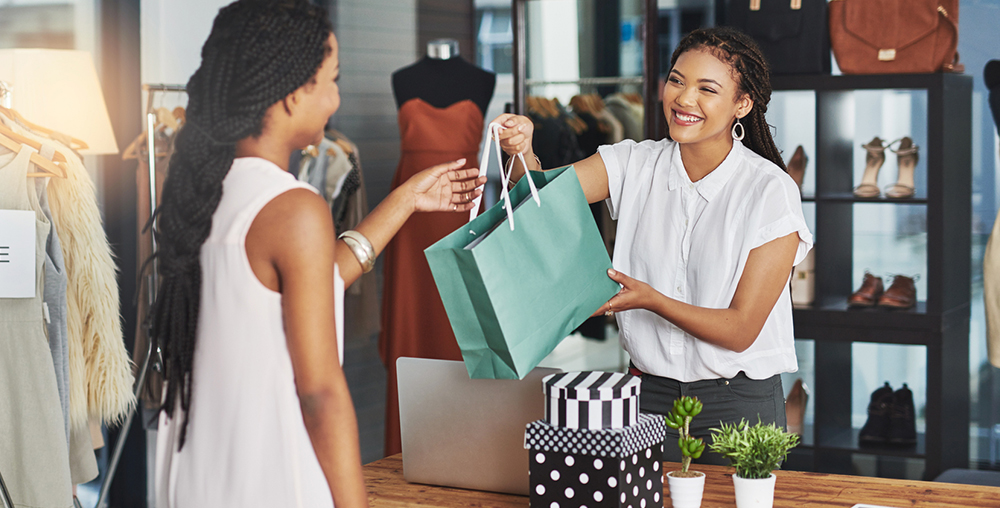 By Kim Hegeman 
Customer-centricity is all about meeting your customers' needs while staying true and authentic to your brand. What does that really mean for your retail organization, and how can you embed it into the fabric of your organization? 
"Customer centricity usually involves getting very good customer insight, being very knowledgeable about your customers, having good customer information systems and understanding that taking a customer-centric approach is not just a marketing function, but something that cuts across the whole organization," says Michael D. Johnson, Marketing Department Chair for the Wisconsin School of Business. 
Gather Customer Insights and Build Relationship
The first step in being customer centric is to really know and understand your customer. A combination of good data and customer relationships are essential to be successful. 
When it comes to data, demographic data is useful, and sometimes the easiest to look at. Some retailers will stop at this level. But even segments of your audience that share demographic data have different experiences, points out Laura Hensen, Executive Director of the Office of Strategic Partnerships and the Kohls Center for Retailing at the University of Wisconsin-Madison School of Human Ecology.  
"It's really important to understand where people are in their life stage, their lifestyle, and their behaviors. What problems exist for them?" 
Gathering the data to know your customer is only one part of the equation. Taking the next step to build relationships to really understand your customer is also key.  
"You need to have data and all the right tools to analyze and understand your customer," says Kelly Bernal with Torrid. "But it's also about taking that information and building that relationship. Build that community that they want to engage with." 
Once you have those relationships built, they need to be continually nurtured. Look for ways to keep engaging with your customers that creates a connectivity that is stronger than just a retail transaction. 
Build Internal Commitment to Customer-Centric Strategies
Once you've crossed the hurdle of knowing and understanding your customers, you need to disseminate that information across your organization and demand a commitment to follow through at all levels of your organization.  
How can you build that commitment to customer-centric strategies and engagement, especially with the people that work within your retail stores?  
"Communication is key in making sure they understand your brand's purpose and vision and what you're setting out to achieve," Kelly says. "Make sure there is clarity and that they support and align to that. It's important to communicate clearly what you're trying to do, why you're trying to do it, and to have open dialogue with them."  
The employees working in your retail stores day to day are the most connected to your customers. They are collecting information and can provide feedback from what the customers are saying, what they like, and what they don't like, Kelly points out.  
It's important to start from a place of open dialogue and communication with your store teams and help build their passion so they want to be a part of what you are doing or changing to be more customer centric.  
Focus Beyond High-Value Customers for Growth
There are many approaches to customer-centric retail strategies, but focusing on your highest value customers may be limiting your success.  
"You do want to focus on the customers that are your high-value customers, but that is usually a small subset, and that can limit the growth potential you have with your customer base," Kelly says. If you're not building those relationships with your other customers you may struggle to achieve objectives and goals by not being able to reach them, she adds.  
If you're mainly focused on those existing high-value customers, you're not bringing anyone new in the front door, Michael adds. "Even your most loyal customers eventually leave. You have to have a way to keep bringing new customers in the front door and transitioning. You have to have ways of moving them along in that relationship."  
You can view your customers in three relationship segments, acquaintances, friends, and partners. "The partners are our best customers that are embedded in our brand communities," Michael says. "But we still need the acquaintances. Without your acquaintances you have no source of future loyal customers. There's opportunity to take these acquaintances and become friends and partners." 
The Ongoing Journey of Customer Centricity
Customer centricity is about forming real connections with your current and future loyal customers. It's about knowing your acquaintances, friends, and partners, how to talk to them, what they need and want, and how best to achieve that goal for each customer relationship. Customer centricity isn't a business move; it's a journey involving everyone in your retail organization.  
Elevate your understanding of customer needs, refine your strategic approach, and fuel your passion for creating meaningful connections through marketing with the CMO Leadership Program. Drive growth and success with practical approaches to build or refine customer centricity in your organization.