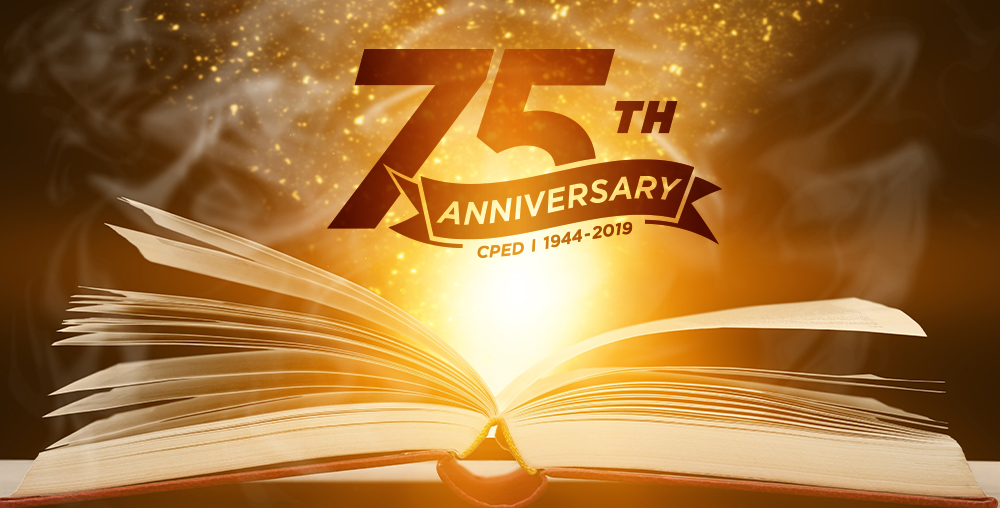 This year marks our 75th Anniversary. To celebrate, we're publishing 75 stories about members of our community. Dan Topf has been an instructor at the Wisconsin School of Business Center for Professional & Executive Development since 2014.
ABOUT DAN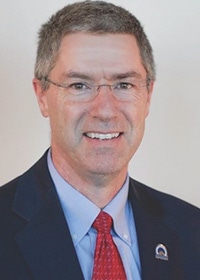 Dan has always been passionate about teaching and theater, so he went to college with the hopes of being a high school drama teacher. While in graduate school, Dan started teaching speech and forensics and soon became a speech communication instructor and co-director of forensics at Iowa State. He left to join Principal Financial Group to work as a corporate trainer, and it was there Dan found his true calling.
"My nine years at Principal was a formative experience for me. I worked in training development, leadership development, talent management, executive coaching, and I was a part of their early e-learning work.
"Through that work I became more interested in business acumen development. I was really interested in simulators, especially business simulations. I started testing a lot of those simulators and started running projects using simulators as a part of the leadership development programs, which I really enjoyed. In April 2000, I started my own firm, selling business acumen training. I have created some of my own materials and the experience has been exciting."
Six years ago, Dan met Ann Martel through his simulation work. They hit it off and started working together on different projects. When she started working as an instructor at CPED teaching Finance and Accounting for Non-Financial Professionals she wanted a backup, so she asked Dan. They now collaborate on the program, using Celemi Apples & Oranges, Celemi Profit Simulator, and a custom Budget Simulator that Ann and Dan created just for the program.
Dan enjoys the traveling that comes with his career, particularly his visits to Europe. When he's not working, Dan loves spending time with his wife and two children. Still a theater kid at heart, Dan and his wife are avid theatergoers. Dan enjoys golfing and tries to attend as many Iowa State Cyclones football games as he can.
CPED IMPACT
Since Dan is usually a "one-man band" in his simulation work, he loves coming to CPED to collaborate with the staff to make programs run smoothly. His students, though, always keep him coming back.
"There are professionally diverse groups here and it's a safe space for them to learn. Often when I am doing programs elsewhere, there's usually a hierarchy in the room and the bosses are around. It gets "judgy" and the students are a little unsure in that atmosphere.
"At the Fluno Center, I really don't have to worry about that. It's a neutral space so they aren't worried about being judged by their boss. They might sit down with imposter syndrome, but after a while they realize everyone is learning this together. I love taking people on this financial journey and building their confidence in these subjects. When they report back to me on the impact it had on their view of themselves, as well as the impact it had on their companies, it means a lot to me. Occasionally, they'll reach out to me to tell me what's happened in their careers as a result of this program. That's cool. I love this topic area. On its face, it's relevant to people's jobs. How it's relevant, though, is up to them. There are lots of ways to take this information, advance careers, and make a difference in their lives. Let this be a catalyst for your development."
Dan understands that the program title Finance and Accounting for Non-Financial Professionals might be overwhelming to those who don't know accounting, but he encourages everyone to lean into the subject matter, come into the class with questions they want answered, and make the most of their CPED experience.
"Students should be intentional about why they're here and what they're going to do to assure they get the best return on their learning investment. If this subject matter is brand new and they don't know what to expect, they should decide to have some sort of agenda going into it. Say 'I am here to get answers to these few questions' and go from there. They can be intentional about what problem they want to fix and shouldn't leave until those questions are answered. Be open enough that other learning can occur, but there should be a point to learning. Take notes, be open, and have a focus. Don't just be here for the food. Engage with everyone and lean into it."
Dan's favorite CPED memories are watching his program participants graduate from their certificate path and hearing about their CPED journey, how their experiences changed their careers, and what they found most valuable in their programs. A few years ago, Dan was able to include his son in his CPED experience to begin a new chapter for his family.
"I once coupled a program I was teaching here with my son's college visit. The University of Wisconsin was the first school he looked at when it came time to start visiting colleges. I knew where everything was on this side of campus so when we were on the official tour I was like 'oh my gosh there's so much other stuff on this campus!' I showed him the Fluno Center, so he knew where I worked when I'm here. It was really fun."
A lifelong learner himself, Dan encourages everyone to keep developing their skill sets and to not let fear takeover their growth possibilities.
"There are too many people my age, especially those who work in leadership, who have stopped developing. They will not use their computer in a new way, leverage technology, learn new skills, or continue to invest in learning new, valuable skills. Please continue to learn, improve, grow, change, and evolve. For example, I had a great opportunity to deliver a brand new digital simulator entirely online for the first time and it was successful!
"You can try new things and do it just fine. Stay useful and valuable. Find mentors to learn from. I like including what I'm learning in my classes; it makes it new and interesting for everyone."
You can learn more about Finance and Accounting for Non-Financial Professionals, as well as articles Dan has written for the CPED blog. You are welcome to connect with Dan on LinkedIn and Twitter @Dan_Topf. Check out more stories from our community in the 75th Anniversary section of our blog.