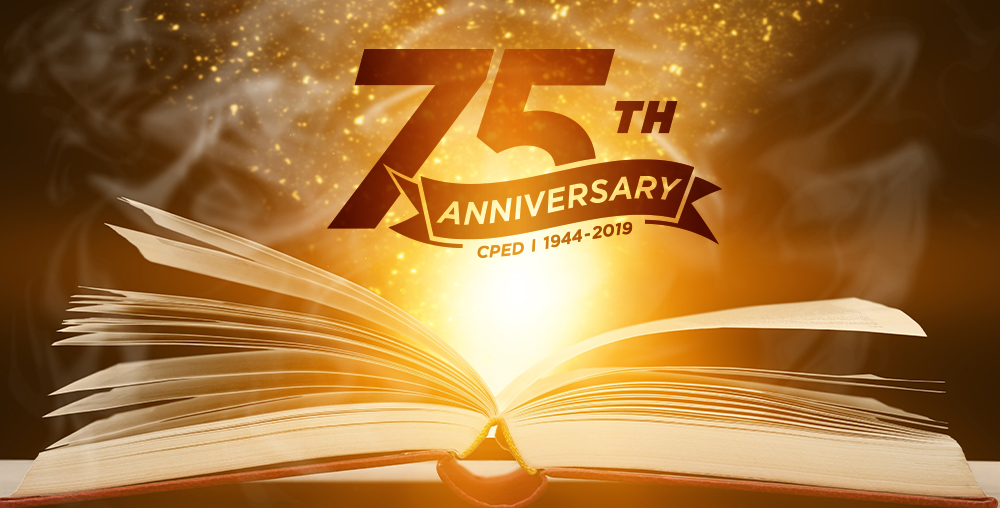 This year marks our 75th Anniversary. To celebrate, we're publishing 75 stories about members of our community. Stephanie Achten is the Senior Program Coordinator at the Wisconsin School of Business Center for Professional & Executive Development.
ABOUT STEPHANIE
Stephanie grew up in Illinois and came to the University of Wisconsin to get her bachelor of arts degree in communication and media studies. After graduating, she went to Los Angeles to volunteer with AmeriCorps in service to Habitat for Humanity for two years. When she completed her public service with AmeriCorps, she had the opportunity to work for many post-production film companies and was grateful to be employed by Warner Brothers, among them. Stephanie missed Wisconsin, so she came back to Madison to work for Wisconsin Public Radio. She also had the pleasure to work for Wisconsin Public Television, American Family Insurance, and AT&T before she was employed by CPED. She has always been passionate about helping educate others and coordinating events, so she applied at CPED to be a program coordinator knowing it was the perfect role for her. One of the CPED instructors, Kathryn Jeffers, was a family friend of Stephanie's. Without knowing Stephanie applied, Kathryn reached out and recommended that Stephanie apply to the very same position! The experience has been very rewarding for Stephanie and she was promoted to senior program coordinator in July 2019.
Outside of work, Stephanie loves spending time with her husband and their 7-year-old adopted daughter. They spend as much time outside as they possibly can going camping, kayaking, and attending concerts. Stephanie also bikes to work as often as possible.
Stephanie is a breast cancer and stroke survivor. From time to time the effects of her stroke impact her work, but she hasn't let that stop her from doing what she loves. "Everyone at work is patient when I can't find my words (a side effect from the chemotherapy and her stroke). I see cancer as a gift, and its impact has affected the choices I make and how I live my life. I wouldn't wish this on anybody, but you need something to bring into focus what's truly important in life and what's not. I wondered how I would return to a 40-hour work week when I got better. Now, I really know when it's time to go home at night to focus on my family, relationships, and health. My health comes into my decision making more than ever before."
CPED IMPACT
Stephanie appreciates being on a team that values professional development. "The people here are really great. This job is a fun job. I love the interaction with instructors, clients, and the CPED team. Everyone here has a team mentality and we really help each other out when we need it. They mean a lot to me. I've learned a lot here. Helen (Brausen) is great about encouraging us to take programs and her own willingness to teach us is so great."
As a part of her role, Stephanie has had the opportunity to work closely with some of our student workers and finds that to be one of the most rewarding parts of her job. "The student assistants are great. Investing in their growth has been a cool opportunity, especially empowering our young women. I want to help them grow into professionals and I ask them often how I can best help them learn, so we pass along our encouragement and team commitment to professional development to them as well. I initially liked that this job didn't have anyone reporting to me but then I found out I would have a student reporting to me and that has made me a better manager. I really enjoy that aspect of my job now. I have strengthened my own managerial and human resources skills as a result of this focus and I'm grateful for the opportunity to help the students grow. I want my students to do well and ask questions. I want them to be serious about what they are learning and to speak up. We foster their growth in the workplace, and I encourage them to practice this. They really do make my job easier, which I appreciate."
Stephanie enjoys taking CPED programs more than once to learn something new and better understand the content. She has taken Project Leadership Communication three times, including one session taught by her friend Kathryn Jeffers. "The programs that we offer are all interesting. I've taken a whole bunch of them and I've taken a few of them multiple times to get the most out of it. Maybe you learn a new skill, technique, or tool that you didn't learn the first time and then you can go back right away and apply that to your job. That's always exciting to me. You realize what you need to work on while surrounded by a supportive community and that's awesome, too. There's a lot of new information coming your way so taking it again has been beneficial."
Stephanie recently took Effective Negotiations in the Workplace and was able to apply those lessons to her own car buying experience. "It's insanely rewarding to take that class. I was able to use what I learned in that class to get a better deal on my car and I'm proud I was able to apply it right away in my own life. I gained a whole new confidence from it."
Learn more about Project Leadership Communication or read more stories from our community.