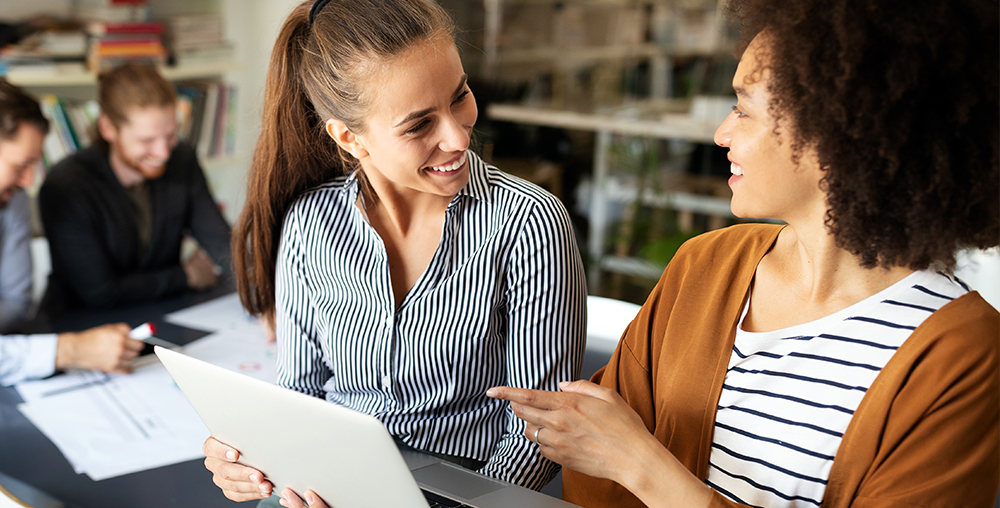 By: Kate Schlesinger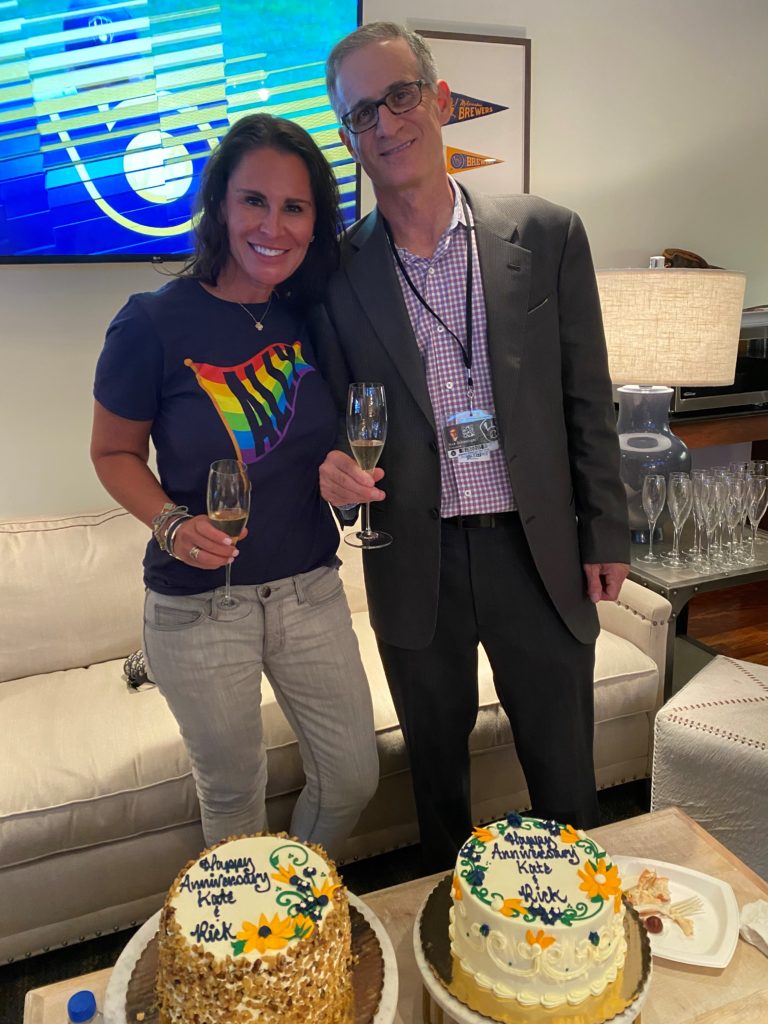 Pride Night at American Family Field this year landed on our eight-year wedding anniversary. My husband and I planned to celebrate with family, champagne, and two cakes (carrot and chocolate) in a suite while enjoying the baseball game. Typically, I'd wear a dress (in the team colors) for a special occasion like this, but instead, I pulled on the navy T-shirt I had recently purchased that said "Ally" with a rainbow pennant.
Later, I posted on social media about the evening and captioned the post, "Even when the team loses, love wins." While the number of typical "Happy Anniversary" messages did outweigh the comments about how amazing my shirt was and gratitude that I wore it, I was happy to see that people noticed my allyship and the bridge I was building to connect all relationships.
Being an ally is not just a label or a moniker on a shirt. To me, allyship is action. When I began my research and studies in diversity, equity, and inclusion (DEI) I had one goal in mind: to help those who did not always have the opportunity to be seen or heard. From even my earliest days, I knew I had privilege and access to experiences that others did not.
My father was an elementary school teacher in Milwaukee, and we lived in the suburbs. He continually challenged us to be aware of what we had, what the world around us was really like, and to try to make it more equitable. Perhaps that is why I followed in his footsteps and entered the field of education. It seemed like the most direct path to share my privilege and power.
My desire to keep learning to be a better ally drives the choices I make, like pursuing the Professional Certificate in Diversity, Equity, and Inclusion at the Wisconsin School of Business Center for Professional & Executive Development and attending Uplifting Impact's How to Be an Ally Virtual Summit.
During the summit last spring, I experienced a turning point in my DEI journey. Prior, I focused on absorbing everything I could about unconscious bias, micro-aggressions, cultural competence, and the like. I created a K.I.N.D. framework for leaders to better understand what was most important when creating an inclusive culture in their workplaces. My work was practical and technical. During the summit, I was struck by what was missing from my work. It lacked me and my personal connection to the impact allyship possesses.
Everyone has stories to tell. Storytelling is a skill and, when done well, it has a powerful effect. Summit leaders Deanna Singh and Dr. Justin Ponder shared deeply personal stories about their lives. I listened to their stories and instantly made connections to my own experiences. Then yes, they went on to cover the technical and practical aspects, too. For me, the most powerful part of the experience was when they tasked us with writing our own racial autobiography.
Reflecting on who I am and my own intersectionality helped me to know how I can be an ally. I had confused "empathy" for "affinity with." I had assumed a comparison with one of my minority diversity dimensions (that I am woman) with another dimension that I did not possess (like being a person of color). For example, "I am a woman, so I get your challenges as a person of color." By correcting this distinction and acknowledging that privilege is not something to feel guilty about nor try to deny, I have been able to work harder, show up more authentically, and take action as an ally.
Allyship is action, and I plan to keep growing so I can build bridges we can all cross together.
About the Author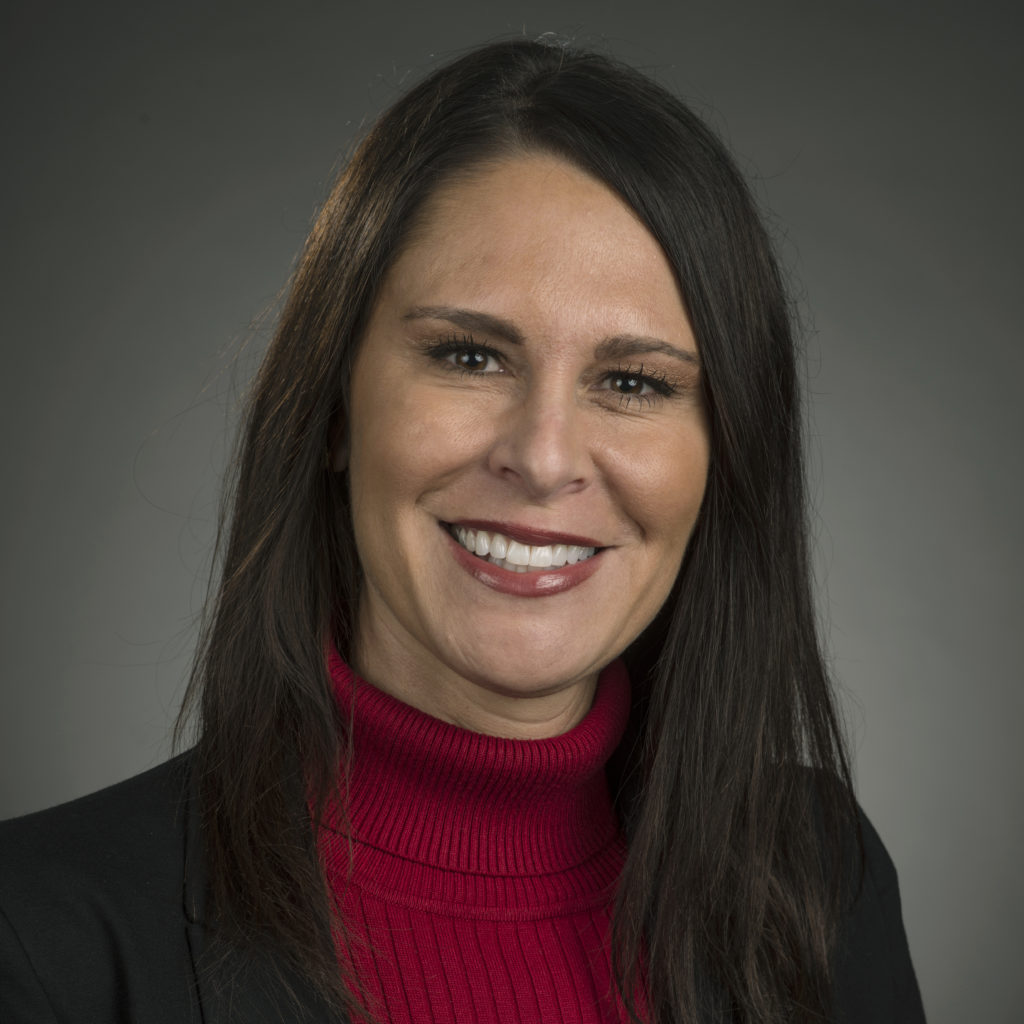 Kate Schlesinger is a Solutions Advisor at the Wisconsin School of Business Center for Professional & Executive Development. She is an educator at heart and is passionate about helping leaders find realistic solutions to their everyday challenges. Kate's graduate work focused on diversity, equity, and inclusion research and she's proud to continue that in her CPED role.