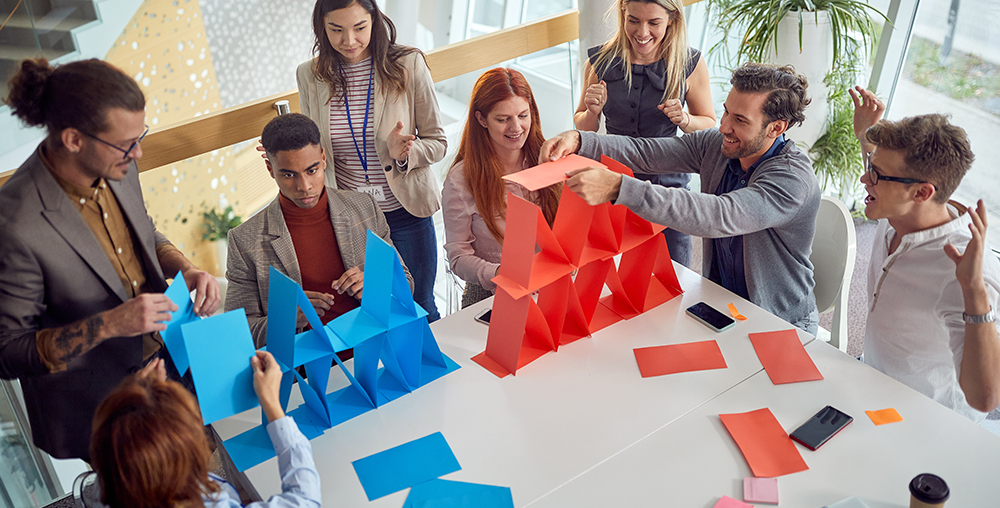 The Wisconsin School of Business Center for Professional & Executive Development is proud to partner with Human Synergistics International to provide assessments and data into your leadership style, organizational culture, agility, and readiness for change. The following article by Dave Wheelock was published to the Human Synergistics Constructive Culture blog on August 9, 2022. 
Many years ago, when I was in my late twenties, I applied for an opening at an area high school for a varsity boys basketball head coaching position. Much to my surprise, I was hired! Although I had played basketball in college, I had virtually no coaching experience. I knew the game, but I had only a few ideas about how to build a team and be an effective leader of young men. I needed to learn about team building and I needed to learn it fast—the season was only a few months away.
Some Basic Principles
What I soon found out was that my team's success and happiness was going to be based on just a few clear principles. Although I may not have been aware of these key truths as a player, it quickly became very clear to me as a coach what needed to be emphasized:
We needed to play the game with skill and play it well;
Every player needed to recognize their role on the team and enjoy their contribution;
We needed to build one another up with encouragement; and
We needed to band together with common interests and purposes in every meeting, every bus ride, every practice, and every game.
Today, I find myself working with numerous organizations all over the country in facilitating and teaching these same principles in team-building events. What I find is nearly all of these organizations have common goals. They want to build a healthy culture of quality, value, effectiveness, happiness, and achievement—among other higher-order goals. Many of these organizations face the same issues that I faced as a young basketball coach. Team building is an important activity, but how should we approach it and what are the key benefits that should be pursued?
Potential Problems and Obstacles
Let's recognize a few problems that sometimes get in the way of initiating team-building activities. Probably the most common issue is justifying the time and expense. This has always been a problem in the business world, in particular. Spending money with little or no return—or an unknown return—is a constant fear for managers and owners. At the risk of sounding cliché: If your organization wants to operate in a constructive and effective way, the price tag of team-building activities is cheap when compared to the valuable benefits. Leaders of nearly every organization that I've interacted with, especially in the last year or so, have commented on how their "return on investment" was way beyond  their estimated return for their team-building events.
Another issue is the problem of talent. What I mean by that is really a two-sided issue. If an organization's leaders (or consultants) see the importance of team building, then they should start by gaining the support of their most talented people. I had talented players on my basketball team and what I found out early was that my most talented players could have the best influences on my team-building efforts as a coach. On the flip side, if they are not on board, they could be the biggest negative influencer. You can still have a winning, successful team with less talent than other teams; I am thoroughly convinced of that. But if you DO have talent on your team, they can be positive drivers toward your team-building goals. Let's get them on board—they will benefit from team building and will likely themselves be agents of change for others.
"If you commit to the time and expense of having an event, a workshop, or a retreat, you will clearly see the return on investment in terms of key benefits to your business, civic group, or organization."

Dave Wheelock
Perhaps the biggest reasons that teams fail today are fear and uncertainty. Life coaches tell us that good habits (and bad habits) can be ingrained after 21 straight days of dedicated actions. Well, we are now in the 27th month of Covid! There are still many people who have never returned to the office at all, and plenty of people who still work a hybrid work schedule. It is no wonder that the fabric of many teams has been frayed. Zoom and Teams are still useful tools, but they do NOT replace effective face-to-face communication, comradery, and collaboration. A common phrase that has passed over our lips during the last 2 years is "Stay Safe".
Truth be told, there is nothing "Safe" about entrepreneurship or running a business or managing a group of people. To put yourself out there is not safe, yet coming back together as a team may be long overdue for many of our businesses or organizations. A team-building event is a GREAT way to come back together and start new habits and new traditions. In the last year or so, it has been very rewarding for me as a practitioner and facilitator to see organizations bring their people (teams) back together. The excitement and engagement have been incredible. It reminds me of winning an important basketball game because of a successful and total team effort.
From Varsity Coaching to Corporate Consulting
I ended up coaching varsity basketball at that same school for 24 years before stepping down. A few years before I retired from coaching, I started facilitating corporate team-building events. From the beginning of that endeavor, I chose to partner with Human Synergistics International. I believe in the effectiveness of their many tools that help develop constructive cultures in a business environment, and I use them almost exclusively. I also still believe in team building as a valuable learning experience and I love watching teams come together and celebrate when they win. Great tools and information are the basis for my choice of being an Accredited Practitioner with Human Synergistics International and many companies and organizations have benefitted from our partnership.
Why Team Building is Important for Your Business
In summary, what are the ingredients in an effective team-building event? Why is team-building important? What are the key benefits to be gained? I suggest that the same ingredients that I learned as a young basketball coach are relevant to teams in work organizations.
Make achievement, skill, and leadership important ingredients to challenge and motivate all levels of talent on your team(s). This will lead to success.
Help your team members understand their roles in the organization. Help them appreciate their roles and the roles of others. This will lead to more enjoyment.
Constantly promote the encouragement of team members through mentoring and interactive relationships. In other words, promote people and the power of working on and solving problems by consensus. This will lead to the advancement of individual talent and team synergy.
Foster a culture of mutually beneficial relationships where collaboration and affiliation dominate the scene. This will lead to superior solutions that are embraced by members.
High achievement and success…enjoyment and fulfillment…team synergy…high quality and accepted solutions. Is it past time for your team to get back together in person? Are you looking to build these intangible ingredients into your organization? If you commit to the time and expense of having an event, a workshop, or a retreat, you will clearly see the return on investment in terms of key benefits to your business, civic group, or organization.
For a selection of scenarios and exercises, consider these world-class team-building simulations for your next team event!
Looking for even more strategies to build better teams? CPED offers several team-focused professional development programs including Managing Teams Effectively and Centering Diversity, Equity, and Inclusion in Team Building.