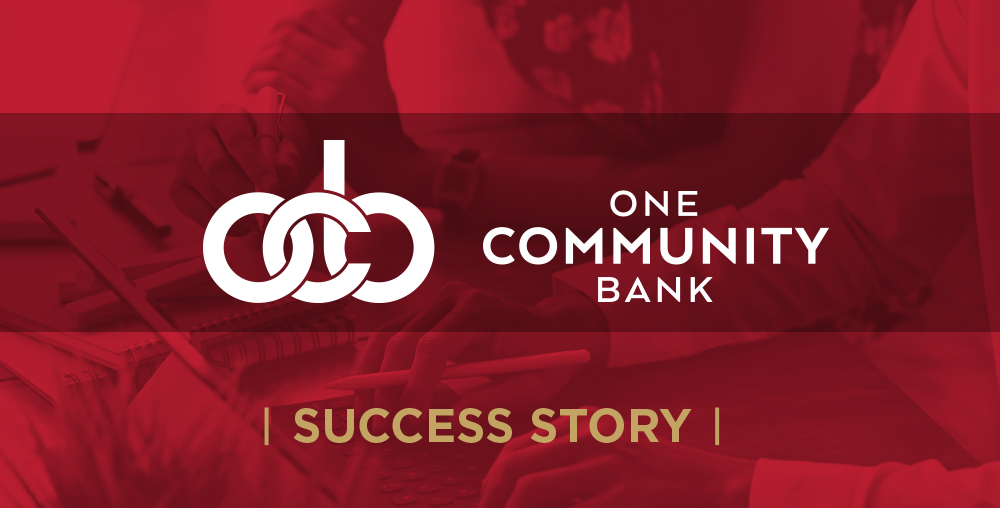 One Community Bank
The result of a successful merger between Oregon Community Bank and McFarland State Bank, One Community Bank's (OCB) mission is to service clients, support colleagues, and invest in communities. The modern, forward-leaning organization takes a client-centric approach to services while bringing together traditional banking services and best-in-class digital solutions.
The Business Challenge
Oregon Community Bank began the merger process knowing how important a smooth transition would be to the clients, communities, and teams from both Oregon Community Bank and McFarland State Bank. Oregon Community Bank CEO Steve Peotter, an alumnus of the Wisconsin School of Business at UW-Madison, has a strong belief in forming relationships with outside partners who bring real value to important projects. The complexities of bringing two similarly sized banks on two different core systems together warranted working with an external resource.
CEO Peotter wanted a resource that would bring objectivity and a holistic approach to the relationship. He said, "We valued working with someone that would put our needs and the needs of our stakeholders above all else." CEO Peotter was aware of the experience and expertise that the Wisconsin School of Business Center for Professional & Executive Development (CPED) would bring to the table.
"We wanted to be treated the same way we treat our clients – with client interests coming first. CPED clearly demonstrated that their client service philosophy aligned with ours."

Steve Peotter, CEO, One Community Bank
The Solution
The CPED consulting team, or Team Red as they became known by One Community Bank, helped identify solutions to challenges which included:
Converting the merger process into projects and tasks that could be assigned to sub-teams
Outlining a communications strategy for colleagues and clients
Assisting with technical challenges associated with core conversion and system migrations
Performing merger-related tasks despite the disruptions of a global pandemic
Team Red was able to help OCB with these challenges by employing a project management framework and a variety of creative solutions. These solutions included:
Allocating colleagues from both organizations into 16 teams
Providing project management and change management training to project teams
Developing a project tracking tool which was updated through weekly project status reports
Creating a Colleague Change Network (CCN)
Distributing pulse surveys to increase colleague engagement across the organizations
Providing feedback and guidance on pandemic responses and the use of virtual meetings
"A key success factor we observed as we worked with senior leadership was the commitment to ensuring all team members or "colleagues" felt informed and involved in the merger. The senior leadership team and Team Red prioritized employee communication and engagement throughout the process."

Tracy Nelson, Consultant, CPED
Results
Together, Oregon Community Bank, McFarland State Bank, and Team Red created a successful legal merger that resulted in the creation of One Community Bank. Through the merger, the team was able to integrate core systems and achieve strong employee retention through all levels of the organization. Additionally, One Community Bank saw strong financial results in 2020 including robust asset, loan, and deposit growth and is positioned to see continued growth in the years ahead.

To learn more about One Community Bank, download the case study. If you'd like to talk to an expert about your organizational culture or a merger/acquisition, set up a Discovery Session. We can help you solve your current challenges while building the internal capability to solve future challenges with confidence.