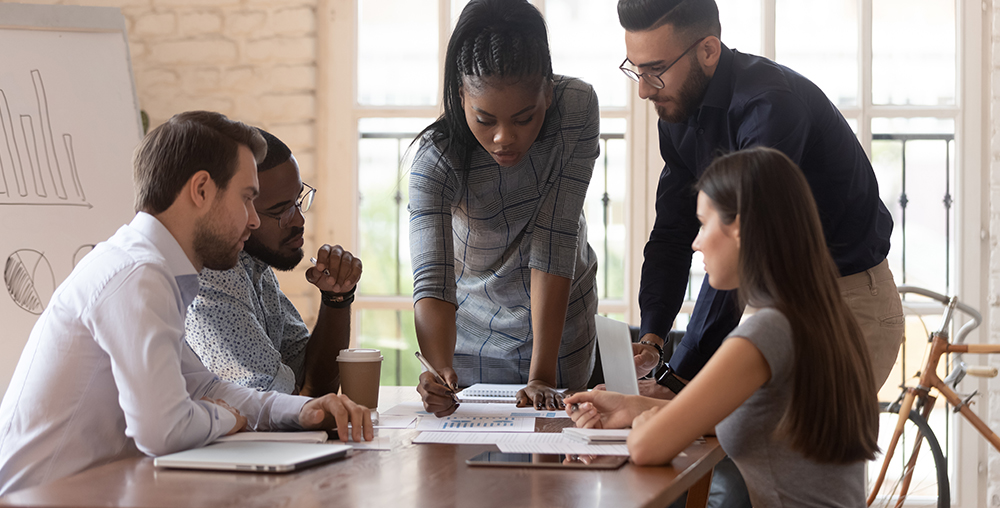 Successful leaders know that creating and fostering a diverse organization is an immense benefit, but professional development resources may be hard to come by. How can you gain support from key stakeholders? Here are a few recommendations:
Approaching Your Boss
Start by gathering all of the program information you can find. Download brochures, planning guides, and other resources that will help you show your boss that the program is highly reputable. Once you have the resources, create an argument for why you want to commit to this important work and how it can positively impact your organization.
For example, you can draft a short statement such as "The Professional Certificate in Diversity, Equity, and Inclusion will help me support our organization by:
Creating and committing to mitigating bias in hiring and performance review processes
Running inclusive meetings
Building diverse relationships"
Articulating the moral and business case for DEI and communicating those values throughout your organization will show your boss that an investment in your professional development will support the entire organization.
Another way to show how this will support your organization is to highlight how diversity, equity, and inclusion initiatives impact the overall success of your business. Weaving in statistics and stories about successful DEI initiatives can help your boss visualize how your learnings could support the organization's growth plans. For example, a 2017 McKinsey & Company study found that gender diverse executive teams delivered 21 percent more profitability than teams with no gender diversity. Highlighting how inclusion generates innovation shows you're thinking about the future of the organization.
Continue What You've Started
If you're already doing DEI work within your organization, you can frame the program as a continuation of this work. Having a team member certified in diversity, equity, and inclusion shows organizational commitment to DEI work and demonstrates internally that this is an important focus of the organization. As new employees enter the workforce, they're looking to companies to publicly demonstrate their commitment to DEI. If your organization can demonstrate that they're committed to making their workplace more equitable and inclusive, it will attract a more diverse pool of candidates.
Set the Foundation from Within
Some companies are in a financial position to hire diversity, equity, and inclusion consultants. Consultants are an excellent investment (we can help you with that too). Having a trained DEI professional on staff is a great way to support the work the consultant is doing and ensure that the initiatives and strategies that are being worked on have a strong chance of creating sustainable change.
Starting small and building DEI strategies into your organization is often a much more attainable strategy when you work from within. The Professional Certificate in Diversity, Equity, and Inclusion is the perfect first, cost-effective step to creating lasting change within your organization. Not only will you personally benefit from the development opportunity, but your organization will see significant advantages.
Organizations that support this type of professional development are able to communicate to employees, board members, customers, and the community that this work is a priority for your organization, and they will reward you for that.
Getting Organized
To prepare for your conversation with your boss, we recommend you download the full brochure for the Professional Certificate in Diversity, Equity, and Inclusion along with the certificate planning guide. These resources will help you organize your professional development plan and show not only the personal benefits of the program, but how this opportunity can benefit your entire organization. Don't hesitate to reach out to us if you have any additional questions about the certificate. We hope to see you soon in one of the programs.