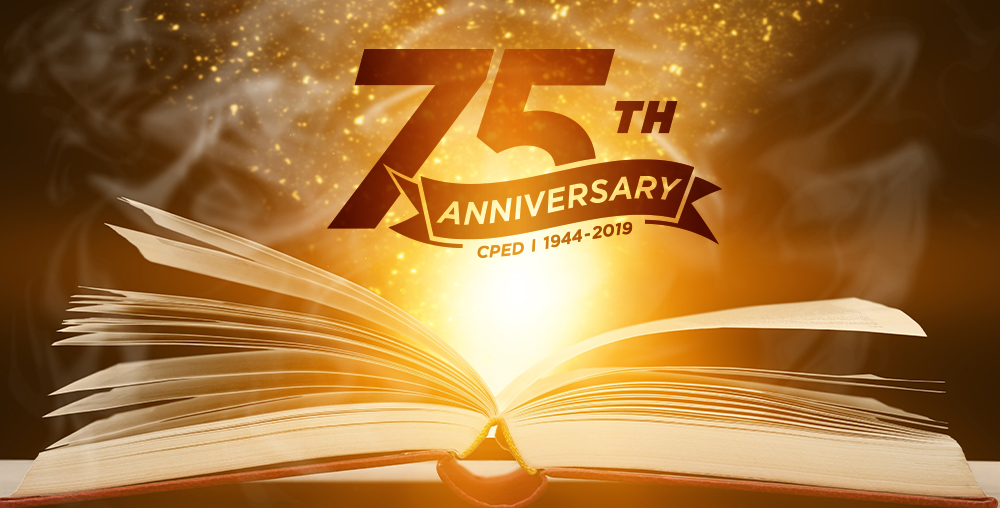 To celebrate 75 years of CPED, we're publishing 75 Stories about our community. Tanzy Lawhorn is the senior director of diversity, inclusion, and organizational development at Sargento Foods Inc. and is the current vice chair of the Center for Advanced Studies in Business board of directors, of which the Wisconsin School of Business Center for Professional & Executive Development is a part.
ABOUT TANZY
Tanzy earned her bachelor's degree from Marquette University and her MBA from the Keller Graduate School of Management. During her time at Marquette, she interned every summer at Briggs & Stratton, working in a different area of the business each year. Her exposure to sales, procurement, marketing, and payroll convinced her to join their team after graduation. She worked in procurement, product management, and leadership development while at Briggs & Stratton and continued her career in human resources at Sargento Foods leading organizational development, talent acquisition, and HR technology. Movement quickly became a theme in Tanzy's career as she enjoyed continuous growth into new areas.
"My mentor told me, 'Tanzy, if you ever see an opportunity that piques your interest, ask', so I asked, I learned, performed by accomplishing goals and I kept moving into new positions. Relationships I developed while working in operations, my business acumen, and people skills were the key competencies that led to leadership development and other opportunities in human resources. What I enjoy most is a sense of accomplishment and passionate about helping others. Leading a team to perform and meet a strategic goal, guiding someone towards attaining their career aspirations, or using my skills and abilities to contribute to business success is what motivates me."
Tanzy loves working in human resources as it gives her the opportunity to do unto others what has been done for her: to be a mentor, a coach, and build development plans for others, while leading by example. Within human resources, she worked on career development, succession planning, change management, and diversity & inclusion. In 2014, Tanzy joined the team at Sargento Foods to focus on strategically carrying out their organizational development strategy. In 2018 she led the teams that focused on attracting & recruiting talent and managing HR processes & systems. She is now taking on the role as Sargento's senior director of diversity, inclusion, and organizational development.
"In my new role, I will continue to lead organizational development in addition I have the opportunity to develop a diversity strategy that will focus on an increasingly diverse environment while cultivating a culture of inclusion and belonging. Sargento has a great culture which is one of the reasons I embrace the new responsibilities and opportunity to lead this effort.
"My career has been a journey of movement, leading project teams, stretch assignments, building relationships, community involvement, stepping out of my comfort zone all as part of executing an individual development plan and I'm glad to share my experiences that will help someone else. I consider myself a lifelong learner, that's just who I am, and it has influenced my career continuously to take it in new directions. My transition from operations into HR was the best fit for me because it provided me with opportunities to feed my passion, helping individuals align their skills and abilities with the needs of the business where both will be successful.
"I thanked a mentor for an opportunity he had given me and he said, 'Tanzy, you create opportunities for yourself. You're intuitive about it. You ask questions most people think about. You ask out of curiosity and a genuine interest to contribute or add value. When you do that, you learn more, and you create opportunities for yourself.' I encourage others to listen, learn from your mistakes and others, ask questions, remain interested, engaged, and leverage lifelong learning if you're committed to that. It has really helped me throughout my career."
Tanzy is truly grateful to work in a role she loves, and hopes that all professionals can find passion, purpose, and joy in their work. When she's not working, Tanzy and her husband enjoy traveling, golfing, reading, watching sports, and spending time with their two children. An avid reader, Tanzy also enjoys finding quotes that resonate with her and documenting them in her running list of her favorite quotes. Every now and then she reviews her list and reminds herself of what she's learned from each quote or the person who said it and reflects on how far she has come herself.
CPED IMPACT
Tanzy's first interaction with the Wisconsin School of Business Center for Professional & Executive Development at the Fluno Center came when she was at Briggs & Stratton during a custom leadership program. Leveraging the information she learned during those early sessions was influential to Tanzy. When she arrived at Sargento Foods she was happy to learn they worked with CPED too. She knew she wanted to continue her partnership with CPED to keep that bond strong. She has taken programs with her teams for continuous improvement, project management, and completed the Lean Six Sigma Black Belt Certification.
Tanzy met and worked with Jon Kaupla, CPED's executive director, prior to him joining CPED, and they enjoyed working together. When there was an opening on the CASB board, he asked Tanzy to join. She is thankful for the relationship building and networking with fellow organizational leaders that has come from her relationship with CPED and the board. Tanzy is currently the vice chair of the Center for Advanced Studies in Business board of directors.
Tanzy is thankful for the mentors she's had in her career and enjoys mentoring and coaching her direct reports, regularly talking with them about their career aspirations. She encourages all professionals to find a mentor, to be open to feedback, learn from others, share what you've learned with others, to go outside of your comfort zone, and to always try to do the right thing.
"I ask my direct reports regularly how I can support them and confirm their career aspirations. I tell them 'if you are interested in my job and aspire to have my career, I will help get you there. We review their competencies, strengths, areas of development, what gaps they may have, and we work on a realistic development plan. I coach others who are passionate in their current roles to update their development plans with actions that will allow them to be the best they can be in the role.
"Have some patience with yourself and don't focus solely on upward movement. Think about how you can move laterally. Some of my best growth opportunities came from the moments when I broadened my scope of responsibilities, that really prepared me for the next upward movements in my career. Keep learning, maintain an inquisitive mindset, be open to new ideas, different perspectives, learn agility, listen to and collaborate with others."
You can discover more about the Master's Certificate in Project Management, the Lean Six Sigma Black Belt Certification, and custom development solutions by visiting our website. Find more stories from the CPED community in the 75th Anniversary section of our blog.