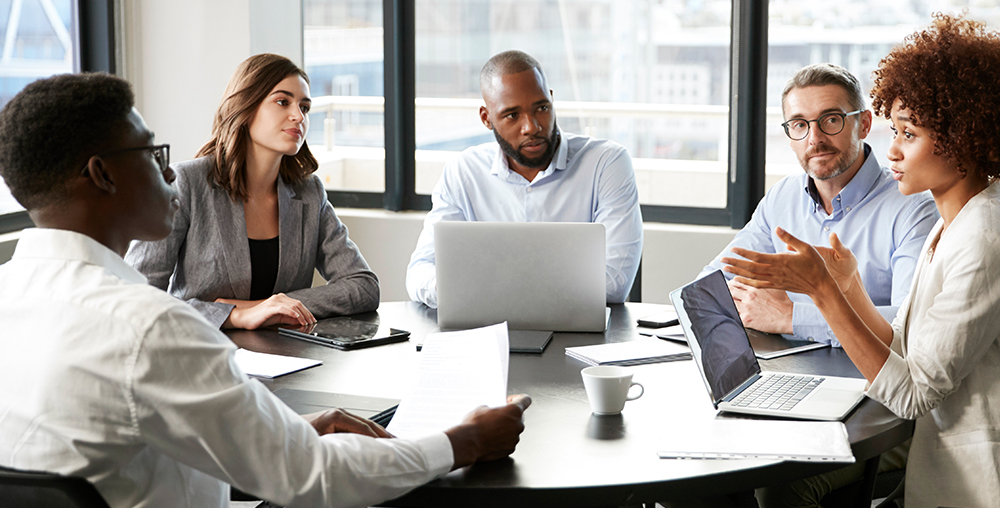 We're passionate about connecting our community members to the knowledge and resources they need to advance their organizations. Throughout the year, our partners gather for virtual roundtables to discuss what they're experiencing at their organizations, trends they're noticing, and leading practices with one another.
With the pandemic and social justice movements of the last year, organizations have found themselves overwhelmed by how they can better approach diversity, equity, and inclusion (DEI) in the workplace. In a recent roundtable conversation, clients from organizations of varying sizes and industries shared how they're furthering their commitment to diversity, equity, and inclusion. Three trends emerged from the conversation.
Create Clarity
Regardless of the size or experience level of the team, DEI work can be challenging. Clients stated that company leadership needs to provide a clearly defined statement of commitment that is shared both internally and publicly.
Employees, stakeholders, customers, and the community need to know the organization's stance on social justice issues. When this is communicated from the leadership team, it sets the tone and the foundation for change to occur. A statement like this is critical to how the public and your clients see you.
Leaders need to understand what employees are feeling. Many organizations have established a listening session, or a cultural audit as means to start getting feedback and connecting with teams. This demonstrates that your organization is committed to taking this work seriously and that everyone is being listened to within the organization.
Integrate and Embed
Several clients highlighted the work being done by their employee or business resource groups. For many organizations, these groups are integral components in establishing change from inside the organization. When employees lead change initiatives and are given learning and training opportunities, the changes are more likely to be woven into the culture of the organization. DEI work is a continuous learning experience for everyone, and critical work needs to be done at the individual level. Shared training experiences have helped employees develop a common language and framework for discussing DEI issues and making sustainable change.
During the discussion, several clients acknowledged that highlighting team members who are doing great work motivates employees to continue driving change throughout the organization. DEI values fuel business innovation so developing a diverse and inclusive team from the ground up has significant team and organizational rewards.
Engraining Sustainable Changes
Sustainability cannot occur without measurement and tracking improvements. Many organizations have built diversity metrics into their quarterly reports. You can begin by implementing a regular engagement index on your employee engagement survey or organizational culture and effectiveness inventories with questions specific to understanding if employees feel valued and supported, and then form new action plans based on that data. Review that information quarterly and adjust the plans as necessary. Employees want to feel like they're being listened to and represented as realignment and change occurs. Belonging and inclusion need to be at the heart of the organization, or change won't last.
Thank you to our community members for sharing their insights with us. If you would like to join us for a future discussion or learn how we can support your DEI efforts, reach out to our Solutions Advisors to set up a Discovery Session. If you're ready to make sustainable change in your organization, join us for an upcoming professional development program. Programs in the Professional Certificate in Diversity, Equity, and Inclusion will show you strategic approaches to assemble, onboard, and foster an inclusive team.