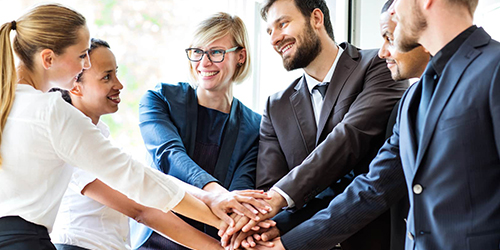 Supporting those around you, including everyone on your team, has never been as challenging as it has been in recent months. Stress levels are high, and many teams continue to work remotely. How can you keep your organization's unique values intact and your team united as you navigate change? Start with these helpful resources.
Creating a strong vision is the critical first step to engaging employees in your organization's culture. Setting behavioral expectations, no matter where your team is currently working from, will help employees operate by the same rules, behaviors, and beliefs. In this case study, instructor Lisa Yaffe examines how Johnsonville Sausage found team success by setting expected values that have lasted for generations.
Leadership is a competitive advantage for any organization, so how can you ensure your company is developing employees for leadership roles at any stage in their career? Investing in your team is a great place to start and in a competitive job market, it's worth proving to your employees that your organization is committed to their success. In this case study, instructor Barry Roberts reviews how Transition to Executive Management lead one organization down the right path to preparing employees to be leaders for the future.
Building workplace relationships is not as easily done as it is with traditional friendships. Without workplace relationships, your organization will not flourish because employees need to be able to build trust together. If you think your company can succeed without this component, think again. What elements of relationship building are necessary for a healthy workplace culture? Instructor Susan Finerty shares three key ingredients in this article.
Don't mistake having a company culture as just another item on an HR checklist; culture is the internal personality of your organization and a bad attitude will form toxic relationships when it's not addressed. Culture develops over time and it impacts the ways everyone in the organization performs. Culture and strategy must be aligned for the company to succeed, and Tracy Nelson explains in her culture webinar what factors leaders need to measure and focus on to achieve alignment.
Knowing what to focus on during times of change is daunting for anyone, but executives especially have a lot to think about as they look ahead. In this panel discussion, our guest speakers encourage all executives to see these obstacles as an opportunity to reinvent the business, focus on the future, and support talent. Organizational Leaders need to be visible in the organization and set the tone for how your team will move forward.
Your organization's culture is critical to the success of a merger or acquisition. While the organizations who are coming together might have similarities in set up, target market, or product, that does not mean their cultures match too. Cultural incongruity is often cited as the number one reason why a merger or acquisition fails. Taking the time to understand each organization's culture, perceptions, and attitudes, puts you on the right track to transitioning to a new, even ideal, culture – watch this webinar to learn more.
All organizations are feeling some form of stress and change this year and focusing on alignment and a strong cultural foundation will keep the team on the right path. For more information on how to improve your organization's culture, set up a Discovery Session with our Corporate Learning Team. We can help you and your organization move forward.